One of the major pieces of equipment—a grinding mill—for Canadian gold mining company Guyana Goldfields Inc's Aurora gold mine arrived in the country earlier this month, as the company continues to push towards gold production by mid-next year.
"We are pleased that the arrival of this critical plant completes yet another key milestone towards the development of Aurora and achieving first production in mid-2015. The safe, efficient transportation of the SAG mill to the Aurora site is a real credit to the entire logistics team composed of our own logistics personnel, local service providers and the EPC contractor, as well as the cooperation of other road users. The arrival of the SAG mill shells was the heaviest component to be transported to site which clearly demonstrates that our logistics chain is fully operational," said Scott Caldwell, the President and Chief Executive Officer of the company, according to a press release from the company.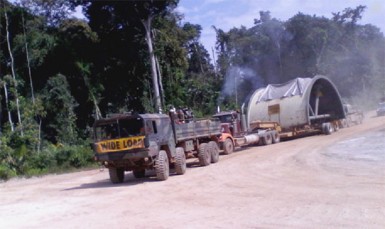 The semi-autogenous grind (SAG) mill was manufactured by CITIC Heavy Industries Co., Ltd and has an installed power of 5.5 megawatts designed to process 5,000 tonnes of ore per day, the company said. A SAG mill is responsible for grinding materials from large chunks into small, usable pieces for processing. The SAG mill is usually part of the primary stage in the grinding process. Pieces of raw or fairly reduced materials are ground into smaller pieces for further processing or sorting.
The statement said that the mill arrived at the company's Buckhall wharf and was transported along the access road to Aurora earlier this month by being split into two sections. Each shell section weighed approximately 49 tonnes and the total combined weight was approximately 100 tonnes. The mill shells were the heaviest component that needed to be transported to Aurora from Buckhall wharf as part of the entire construction process, the company said.
Aurora currently has over 700 people working at the project site in Region Seven, with this rapidly expanding to 900 personnel by the end of the year, the statement added.
Guyana Goldfields Incorporated is a Canada-based mineral exploration company which is focusing on the exploration and development of gold deposits in Guyana. The company has been operating in Guyana since 1996.
According to its mine plan for the Aurora Gold Mines Project, Aurora is designed to produce 3.29 million ounces of gold, averaging 194,000 ounces per year, over an initial 17-year mine life. Last month, during a tour of the Cuyuni mine site, officials disclosed that the project is approximately 30% completed and is scheduled for commercial production in mid-2015.
Around the Web