The sperm whale which washed ashore on the Kitty foreshore on Tuesday was yesterday buried on the foreshore after all avenues explored in attempting to move the 30-ton mammal were exhausted.
Speaking to Stabroek News, Annette Arjoon-Martins from the National Wildlife Committee said that they were advised by the Royal Ontario Museum among others and specific instructions were carried out in burying the animal in a grave in the shell mounds where it was washed up. Arjoon-Martins said that due to the density of the whale's skin and the rapid disintegration of its internal organs, they were advised to place pipes in the mouth and anus of the animal which would serve to relieve a buildup of gases from decomposition to prevent an explosion.
The burial spot was chosen between two mangrove trees on the foreshore which Arjoon-Martins said will serve as a milestone. She also noted that samples from the animal were taken by Calvin Bernard from the University of Guyana and these will be sent overseas to determine the cause of death and its genealogy. Photos of the whale were also taken and sent overseas to help to determine precisely what type of whale it was.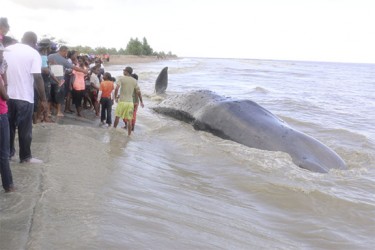 The whale was caught in a fisherman's net on Saturday and it suffered injuries after the fisherman tried pulling it to shore. A search was then conducted by Arjoon-Martins who scoured the sea to find the whale. Unfortunately all attempts to recover it were futile until it washed up on the foreshore on Tuesday morning attracting multitudes of the curious all through the day.
Dr. Antonio A. Mignucci-Giannoni, one of the international advisers who was in touch with Guyanese officials, said that female whales only reach up to 35 feet so if it was longer, it could be a male.  He further opined that maybe the whale was not in good health to be in 45-feet deep water, where it became entangled with the fisherman's net. Exact measurements were done by the World Wildlife Fund which revealed that the mammal was 42 feet, Arjoon-Martins said.
She also estimated that about 10 000 persons would have converged on the scene throughout the day just to get a glimpse of the whale and this kept officials including Ministry of Public Works officials who provided three excavators that failed to move the whale, busy up till midnight.
After the decomposition of the corpse, Arjoon-Martins said, the skeleton will be exhumed and placed on display in the aquarium section of the zoo.
Sperm whales are the largest toothed whales and also the largest toothed predator. The whale also has the largest brain of any animal on Earth.
Around the Web