With its operations already suspended here, the jet service on which US$620,000 was found in Puerto Rico last month has closed its operations in Gainesville, Florida.
According to the Gainesville Sun, the charter airline and aircraft maintenance company based in Gainesville and serving Ocala has closed its doors nearly a month after federal authorities arrested its CEO, Khamraj Lall in Puerto Rico.
The report posted online yesterday said that Exec Jet Club is not conducting any operations at Gainesville Regional Airport but does have at least one employee at the Gainesville location, Laura Aguiar, the airport's public relations and governmental affairs manager, said. Aguiar said yesterday that Exec Jet Club is still the legal lease holder on its hangar and is up to date in its rent.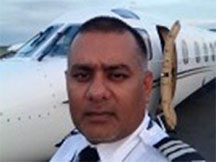 "There is a subtenant using a portion of the hangar," she said in an e-mail to the Gainesville Sun. "The airport's attorneys are reviewing the lease to determine potential impacts regarding the subtenant and the building's owner, which is RD Air. We are waiting to hear more from Exec Jet Club regarding future plans."
Exec Jet Club also had an operation at Ocala International Airport.
"It was almost entirely the maintenance component," said Matt Grow, airport director. "They didn't run any of their charters out of Ocala. At least, I've never seen them do it. Most of those charters were run out of Gainesville Airport", he told the Gainesville Sun.
Grow said Landmark Aviation, Exec Jet Club's landlord in Ocala, advised him that the company had shut its doors.
"One of (Exec Jet Club's) employees, who's been on the airport for quite a while, is basically taking over the maintenance operation on a month-to-month basis until we can figure out exactly what we want to do," Grow said. Grow, of Ocala International Airport, said he contacted the city attorney as soon as he heard of Lall's arrest.
"I didn't want them on the airport," he said. "I didn't want to have any part of it. We were looking for ways to terminate this agreement but he saved us attorney's fees and headaches when he did it for us," Grow said, told the Gainesville Sun. "I'm glad that we're moving beyond that and have the opportunity to do something different and, hopefully, better."
Lall earlier this week waived his right to appear before the court in Puerto Rico to plead and instead entered a not guilty plea through his lawyer Rafael F Castro Lang.
In a motion filed this week, Lall, who is the Chief Executive Officer of the Exec Jet, said he was advised of his indictment by a grand jury late last week and advised of his rights to be present at an arraignment, but seeks to waive those rights and formally enter a not guilty plea.
His motion was approved by Magistrate Judge Camille L Velez-Rive who entered Lall's not guilty plea and gave both the defence and prosecution seven days for discovery and 14 days thereafter to file motions. The case was referred to presiding Magistrate Judge Marcos E Lopez for scheduling.
Lall, who had US$620,588 stashed on his aircraft on November 22, is on US$100,000 bail and is confined to his New Jersey home from where he can perform the administrative functions of his position. The pilot, who can only leave his home for court hearings, was also forced to turn over his pilot licence to authorities as part of the bail requirements.
He faces five years in prison if convicted.
According to the grand jury indictment which was seen by Stabroek News, Lall is charged with bulk cash smuggling. It is alleged that with the intent to evade a currency reporting requirement, he knowingly concealed more than US$10,000 in currency and other monetary instruments and transported and transferred and attempted to transport and transfer such currency and monetary instruments from a place in the US, that is, Puerto Rico, to a place outside the US, that is, Guyana, in violation of United States Code 5332(a)(1) and (2).
In addition to the charge of bulk cash smuggling, Lall also faces forfeiture of property not limited to the cash, according to the indictment.
The grand jury indictment says that Lall shall, upon conviction, forfeit to the United States all property, real and personal, involved in the offence, and all property traceable to such property, wherever located, and in whatever name held, which includes but is not limited to the currency found aboard the jet.
Searches of Lall's private aircraft during a refueling stop at the Luis Munoz International Airport, in San Juan, on November 22, uncovered US$150,000, wrapped in plastic bags and a blanket under the exit row seat and US$470,000 in a black suitcase inside a compartment next to the engines, which contained several black garbage bags containing bundles of currency.
Lall, authorities said, accepted responsibility and ownership for the money and informed that his co-pilot and his father, who were with him during the refueling stop, had nothing to do with the cash.
Lall, in addition to his private jet service, is the owner of Kaylee's Service Station, at Coverden, East Bank Demerara, which he purchased in 2007 as part of his investment plans in Guyana.
According to the Exec Jet Club website, he later expanded his venture when he introduced Quin's Special Events & Services, a limousine service.
His arrest has attracted much attention here particularly following reports that President Donald Ramotar flew on the service thrice.
Around the Web