Several culverts will be built along the Linden/Lethem road as the Ministry of Public Works continues to upgrade the 276 miles thoroughfare.
A release from the ministry yesterday also said that extensive bush clearing will be done.
The project is being carried out to protect the road  from damage and guarantee visibility for road users. Works have begun from miles 84 to 276, according to Naeem Mohamed, an Engineer overseeing the project.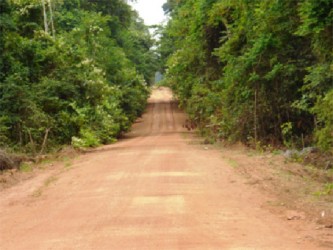 The release said that from Linden to Omai Turn Off [miles 0 to 65], Metallica will grade, place and compact deteriorated sections with laterite. Demerara Timber Limited will maintain from Omai Turn Off to Siparuni [miles 65 to 84].
According to the release Mekdeci Machinery and Construction is currently working from Siparuni Junction to Kurupukari, which runs from miles 84 to 135. The construction firm is entrusted with clearing bushes, stabilising sections with cement and the installation of 10 lines concrete (3 feet in diameter) culverts.
JR Ranch Company will be carrying out similar works from Kurupukari to Annai [miles 135 to 200], the release noted.
From miles 200 to 276 – Annai to Lethem – V. Dalip Enterprise will be undertaking works that include building up of low-lying sections, clearing bushes along the carriageway and installing 15 lines [3 feet] concrete culverts.
The Ministry will shortly erect traffic signage along the road, and by March 2015 all works will be completed, Mohamed disclosed.
For this second phase of the project, approximately $257M has been allocated.
Phase one, which concluded in mid-November, saw critical sections being resurfaced thus reducing the travel time from 13 plus hours to seven.
Around the Web