A 48-year-old Alberttown man, who pleaded guilty to one of five separate charges, read to him, including armed robbery, was remanded to prison when he appeared before Magistrate Ann McLennan yesterday, in the Georgetown Magistrates' Court.
The court was told that on November 26, at Church Street, Georgetown, Fizal Mohammed of 236 Albert Street, Alberttown, Georgetown, robbed Tallet Singh of one cellular phone and a quantity of cash amounting to $30,000.
Secondly, it is alleged that on December 15 at Orange Walk, Bourda, armed with a gun, Mohammed robbed Rajesh Jewan of a quantity of cash and one cellular phone amounting to a total value of $170,000.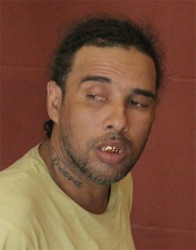 It is also alleged that on November 26 at North Road, Georgetown, Mohammed incurred a debt of $14,500 when he travelled in Abraham Raymond's car without paying.
The court also heard that on November 25 at Pike Street, Kitty, Mohammed incurred a debt with Michael Mohabir of $15,500. And the last charge read that on December 16 at New Market Street, Georgetown, Mohammed incurred another debt of $26,000 with Nettoo Denny by travelling in his car and not paying.
He pleaded guilty to the third charge read to him but denied the other four.
Prosecutor Deniro Jones objected to bail based on the gravity of the charges and the penalties they attract. He said the articles were found on Mohammed and he had other charges pending. Jones also said that Mohammed had provided a wrong address to the police, different from the one he gave the court. The prosecutor submitted that if Mohammed was granted bail he would not return for trial.
Mohammed then begged the court to allow him to plead guilty to all the charges so that he can be sentenced quickly as he has no relatives. The accused was ordered to return to court on January 12 before Magistrate Fabayo Azore.
Around the Web