An accident yesterday afternoon at the corner of Camp and Quamina streets left the drivers of the two cars along with a passenger grateful that no one was killed or seriously injured.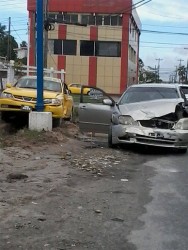 The accident occurred just around 3 pm and involved motor car HC 2025 from the Cyril's Taxi Service and PMM 320 from the Crown Cabs Taxi Service.
One source, who ask to remain anonymous told this newspaper that one of the cars was heading north along Camp Street while the other was going west along Quamina when they collided.
He added that one of the drivers suffered minor injuries to his hand, was treated and sent away.
Camp and Quamina is a junction at which numerous accidents occur.
Around the Web