Former PNCR Leader Robert Corbin yesterday paid tribute to the late President Desmond Hoyte and recalled the latter's last address in 2002 to the party's congress where for the first time he opened the door to power sharing with the government.
Corbin also declared that Guyana was at the crossroads with its democracy "under serious threat".
Corbin's reference to Hoyte's ground-breaking remarks on the 12th anniversary of his passing will be interpreted as a reaffirmation of the PNCR's quest for shared governance/power sharing as general elections loom.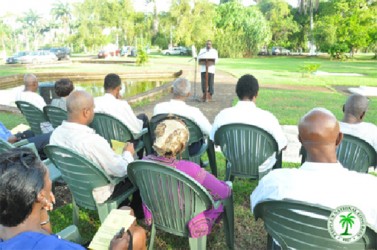 Speaking at the Seven Ponds Place of Heroes where Hoyte's remains were interred, Corbin noted that in that 2002 address, Hoyte had said that it appeared that the time had come for an adjusted system of governance "– whether we call it "power-sharing", "shared governance", "inclusive governance" or any other name".
Corbin, who has kept a low political profile in recent years, noted that Hoyte has also said that Guyana must change to survive and that the PNCR had to transform itself to cope with the inevitable change.
He argued that Guyana is again at the crossroads.
"We are quagmired in a national crisis of unparalleled proportions. The crisis of governance is well known. Our democracy is under serious threat", the political leader-turned-lawyer lamented.
Said Corbin: "In the presence of the crisis which Guyana faces, we can, perhaps, use this morning of reflection to heed those last words of Desmond Hoyte and be in the forefront of the
battle to bring about such change. In doing so, the PNC once again is being beckoned by History to ensure that a PNC Leader again rescues our Nation in a time of crisis."
Corbin also adverted to Hoyte's statement at the Congress that "if revolutionary thinking produces ideas and projects hitherto unfamiliar to us, let us nonetheless examine them keenly and, if necessary, embrace them bravely in a spirit of change. Change is as necessary a part of politics as it is of life. Those who do not change become dinosaurs, irrelevant and eventually extinct. If we do not adapt to new circumstances, new challenges and new responsibilities we cannot survive, much less overcome."
Corbin added "unfortunately those who now manage the affairs of our country have failed to take heed and, indeed, have become dinosaurs, completely irrelevant and will eventually be extinct."
The clamour for constitutional reform and a re-jigged form of government will increase the pressure on the minority PPP/C government which analysts say in the last 15 years has been implacably opposed to sharing power with the opposition in a formal arrangement. Analysts have said if the pending general elections produces a minority government, the call for the sharing of power would be difficult to resist.
Corbin, wo became the PNCR Leader after Hoyte passed away suddenly, stated that Hoyte came to power at a critical juncture in 1985.
"When Prime Minister Dr. Ptolemy Reid, retired in August 1984, Desmond Hoyte was appointed Prime Minister of Guyana, a post in which he served until the death of President Forbes Burnham on August 6, 1985.
"It was at that crucial juncture of our country's history, in the midst of uncertainty and fear for Guyana's future, that Hugh Desmond Hoyte was thrust into the furnace of leadership and there is no doubt, even from his greatest critics, that he was the correct man for that season. Many historians and analysts have over the years since his departure speculated how much better our fate as a nation would have been had he been allowed by circumstances to complete his task as President beyond 1992 or as Opposition Leader beyond 2002.
"The luxury of such reflections, however, are of no help in the present circumstances, if not dilemma, of Guyana", Corbin said.
Corbin asserted that Hoyte had been a reluctant recruit to public life but then devoted all of his energies to the task at hand.
"He was a formidable man, tireless in his work habits, intolerant of incompetence and corruption, meticulous in his attention to detail and consumed with the rightness of his causes and the needs for justice and honour in the life of our country. It is remarkable that he lived and worked in the full view of national and international scrutiny without attracting to his name even the barest whiff of credible stain on his character. I dare say, a quality so much needed in our society today", Corbin stated.
He described Hoyte as a visionary who always conducted public policy and political strategy on the basis of deeply held and thoroughly analysed understandings of the needs of Guyana.
"He was an unflagging worker in its cause. Anyone who worked with him in the public service, in his political party or on the international scene will testify to his energy, his sense of duty and his indefatigable drive to accomplish any task which he set himself or, if truth be told, which his sense of duty to his country devolved upon him.
His legendary seriousness of purpose and focus on national priorities are, for many Guyanese, the mark of the man. In times of crisis and challenge, Hoyte put country first and was always willing to do the right thing for Guyana, whatever the cost", Corbin declared.
Around the Web