Minister of Natural Resources and the Environment, Robert Persaud and a team of officers recently visited Santa Fe Inc., mega farm in the Rupununi, to get an update from communities and other stakeholders on the environmental and social impacts of the project, GINA said.
The project by the Simpson family of Barbados entails the large-scale cultivation of rice and other crops. Concerns have been raised about the possible run off of chemical-laced effluents into nearby creeks and the river.
GINA said that at a community meeting which was attended by the Regional Chairman,  Wilson Lorentio, Chairman of the Bina Hill Institute, Mike William, Toshaos, community leaders and residents from surround-ing communities, there was positive environmental feedback on the management of the project.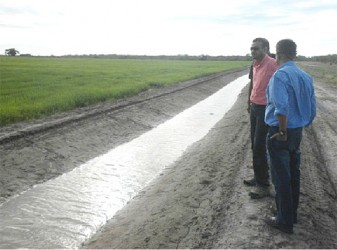 "We recognised that there are social, as well as environmental sensitivities of developing a mega scale farm in this area, and we made it absolutely clear that for any farm of this nature we will require clearance from the Environmental Protection Agency. We will also require buy-in from the communities too, and we also require that the farm looks at integration and involvement with the local community…," said Persaud, according to GINA.
These requirements, were accepted by the investors despite there being no such requirements for other farms in other locations of the country, Persaud said. GINA said that he also commended Santa Fe Inc., for not only complying with national laws, but for also taking into consideration the sensitivities, concerns and suggestions of the local communities.
GINA said that Persaud urged Santa Fe to continue to embrace environmental concerns and social realities even as works towards the sustainability of the project. He also suggested that the farm explore the possibility of integrating waste-to-energy technology to support its operations.
Around the Web