Workers attached to the Anna Regina Town Council yesterday staged a peaceful protest in front of the Town Council Office.
The workers were protesting late or no payments and the failure of the council to provide retroactive and leave package payments.
Speaking with Stabroek News, First Vice President of the Guyana Public Service Union Mortimer Livan said they hoped action will soon be taken so that workers could be paid before Christmas. "It is totally unfair that workers cannot be paid their wages. Everyone who has a job should be paid in a timely manner and be paid the exact amount. We will be here protesting until a favourable compromise can be met," he said. Andella Duncan, a Market Constable of the Anna Regina Market expressed her displeasure at how the situation was being handled by the Town Council.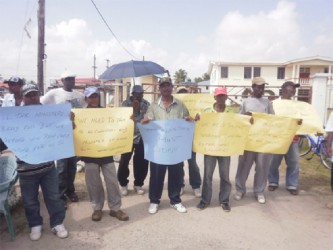 "They didn't even tell us when we will get pay. They already get their money. I sure all them ministers get pay for the holiday and them mussy done buy pet food," the woman remarked.
A disgruntled labourer held a bowl of crackers in his hand, and was heard saying, "Me ain even get money to buy nut butter."
Senior Industrial Relations Officer of the GPSU Dennis English noted that the issue of workers not being paid should be addressed with urgency."This issue should not be delayed. Since in the latter part of 2012 workers have not been paid accordingly. Workers are often underpaid and to make it worse, they are paid late. We are too advanced and civilised for this to be happening. No one should be paid late. No one should be made to suffer any detriment after working. Now we are hearing that no one will be paid for December. That is total nonsense. Workers need their money. It's Christmas and they all have families. Something urgent needs to be done," English said. One security guard stated that workers are being treated unfairly. "The Town Clerk did not come out to talk with us. We also want to hear from the minister. They ain telling us nothing and is since 7 am we out here. Furthermore we need all we money one time.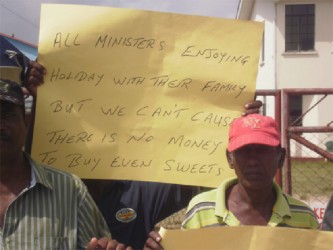 This is not sugar cake. We don't want nothing piece-piece. I have children to look after and things to do for the holidays," the guard.
Meanwhile when contacted by this publication, Two Town Clerk Dianne Critchlow stated that workers were expected to be paid for the month of December by Monday afternoon (yesterday).
"I am aware that workers are protesting for their leave payments and retroactive payments for 2012 and 2013," she said. "However, all workers will be paid their salaries for this month. The council does not have the funds to pay for the packages but we are trying to collect outstanding funds from rate payers to offset some of the expenses."
Around the Web