Seventeen-year-old Seon Gittens whose mother told the court that he punched her after she refused to give him the $500 he demanded, had the case against him dismissed but not before being reprimanded by the magistrate.
It was alleged that on December 21, at Middle Road, La Penitence Gittens made use of abusive language to Nelly Gittens.
He pleaded guilty after the charge was read to him by Magistrate Ann Mc Lennan at the Georgetown Magistrates' Court.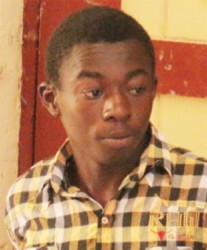 The prosecution's facts are that on the day in question, the defendant, who is the son of the virtual complainant, was at home when he asked her for $500. She told him that she didn't have any money and her answer angered the defendant who told her to go and find the (expletive) money and give him.
She reported the matter which led to his arrest and charge.
When the presiding magistrate asked the unrepresented Gittens if he had anything to say, he related a story that began since he was age ten.
"From the age of ten I was on my own and nobody don't take care of me," he told the court. "But I does buy things and give everybody and keep the lil wa lef back fuh me. I come out from the bush and give me mother $100,000 to keep… Me boss call me fuh go back and wuk and when I ask she fuh $500, she didn't have because she spend out de money." Gittens added that he had previously collected a small quantity of cash from her.
His trip home three weeks ago Gittens said, was to sign for his newborn child and he was hoping to set aside some of the money for his baby.
He added that he normally buys things for the home and shares his money with family members and gives some to his mother to keep, since he doesn't have a bank account and whatever remains he keeps for himself.
When the magistrate further questioned whether he cursed and punched his mother he denied assaulting her. "I didn't punch her. I will never do that. I is do everything fuh me mother and I is she only son, I jus try to push her way after she in my face with a bottle," he stated.
His mother told the court that she did receive $100,000 from her son, but he spent $68,000 from the amount and she used $30,000 to buy things for the house. She added that he was "sporting" with the money and he assaulted her after she refused to comply with his orders.
"He chuck me and punch me, then he go way and hide when the police come. When he don pon me, he start with meh sister," the woman said.
Meanwhile, Gittens pleaded not guilty to another threatening language charge read against him. It was alleged that on December 21, he threatened Shelly Gittens, who is his aunt.
Shelly Gittens was said to be intervening in the matter with the mother and son when she was threatened by the young man.
The prosecutor said Gittens threatened to "drop" his aunt and (expletive) her up.
In dismissing the matter with his mother the magistrate sternly warned the young man about the penalty attached to threatening and abusing his mother, while advising that he should give his mother extra money for the holiday season.
He was placed on $2000 bail for the threatening language charge against his aunt and placed on a bond to be of good behaviour until the completion of trial.
His matter was transferred to Court 10 and was adjourned for January 6.
Around the Web