A visitor holidaying in Guyana from the US Virgin Islands yesterday incurred a $20,000 fine and found himself receiving orders to perform community service after his arraignment for possession of narcotics in a Georgetown court.
Denzel Williams, 48, of St Thomas, USVI, pleaded guilty to a charge of possession of cannabis, after it was read to him by Magistrate Ann Mc Lennan at the Georgetown Magistrates' Court.
Williams was charged with having 4 grammes of cannabis in his possession on December 22, at Ituni Street, Bel Air Park, Georgetown,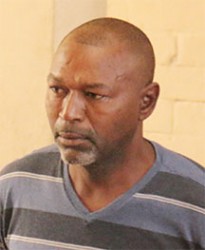 The court heard that police acting on information went to the address where the defendant was staying at 74 Ituni Street, where they met him and subsequently conducted a search in the house.
A quantity of leaves, seeds and stems suspected to be narcotics were found amongst his personal belongings, the items were then taken and weighed which amounted to 4 grammes, Prosecutor Deniro Jones said.
According to Jones, Williams, a maintenance worker, also admitted to the police that he smokes the drug. The prosecutor also told the court that the defendant reported that his passport was stolen from the premises where he was staying at the time of his arrest. The unrepresented Williams was fined $20,000 and ordered by the magistrate to perform two weeks' community service, while remaining in custody. On the completion of the community service he will be escorted to the nearest point of exit for deportation.
If he fails to pay the fine, he will be imprisoned for four months.
Around the Web