With funding from the Inter-American Development Bank, the Ministry of Local Government and Regional Development recently launched the Clean Green Guyana Campaign which seeks to replace plastic bags with reusable bags for grocery shopping.
According to a Guyenterprise press release, the initiative was launched to offset the single-use products and non-reusable waste, including plastic bags, plastic bottles and styrofoam containers which currently constitute 10% of the waste generated in Region 4.
Research, the press release said, shows that this type of non-reusable waste is the second largest from Guyanese households after biodegradable waste which constitutes 50%.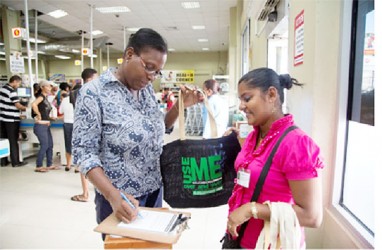 Further, it said that figures from the United States Environmental Protection Agency estimate that the use of a reusable bag can save six plastic bags per week or 288 per year.
Apart from creating difficulties for solid waste management, the report said the non-reusable plastic items photodegrade, break down into smaller, more toxic petropolymers which eventually contaminate soils and waterways creating a significant environmental threat.
Under the Clean Green Guyana campaign, participating supermarkets will issue customers with a sturdy reusable bag for purchased groceries instead of the usual plastic bags thereby reducing the environmental threat.
The Bounty Supermarket chain, DSL and Survival supermarkets are all participants.
Customers are encouraged to return with their bags when shopping in the future. As a part of the campaign, customers will be eligible to win a hamper in January 2015.
Around the Web