(Trinidad Express) Regional media icon, Grenada-born Leslie Pierre was a stalwart who would be remembered for his fight for press freedom.
Pierre died at his home at the age of 86.
He founded the weekly newspaper The Grenadian Voice in 1961 whilst the "Revolutionary" Government was in power and could only print two editions before he and two of his colleagues were tossed in prison for offering what the regime labelled as a counter revolutionary perspective.
They were freed during the 1983 military invasion by US and Caribbean forces.
In addition to his role as publisher and editor of the Grenadian Voice Newspaper, Pierre played a key role in the development of the broadcast media in Grenada, as he provided training and support for several young journalists.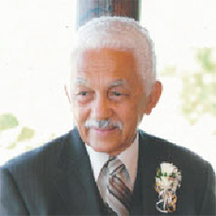 He was instrumental in the Caribbean Communi-cations Net-work's acquisition of the majority shares in the then-state owned Grenada Broadcasting Corporation (GBN)  in 1998.
Pierre served on the GBN Board for more than 10  years and only demitted his post of director when he became ill in 2012.
CCN CEO Shida Bolai and the OCM Group on Tuesday extended sympathy to Pierre's family and members of the media fraternity in Grenada and the Caribbean region whose lives were touched by Pierre's strength of character and staunch defence of media freedom.
"Mr Pierre will long be remembered for standing up for the defence of free speech and his having gone to jail in defence of same is the ultimate sacrifice that one could make and so by example, Mr Pierre set the framework for the media"  Bolai said as she reflected on his many contributions.
She said that Pierre also cared deeply about the country's history and its preservation, and was one of the founding members of the Willie Redhead Foundation.
"The Caribbean Communications Network and One Caribbean Media extend condolences to his family, colleagues and friends and urges the fraternity to take the candle lit by Leslie Pierre and continue lighting the path to the preservation of media freedom in the region and across the world," stated Bholai.
Around the Web