The chairmanship of Demerara Distillers Limited (DDL) was formally handed to Komal Samaroo yesterday after Yesu Persaud, whose retirement was announced in November, officially stepped down.
The handing over, which was done in a very simple ceremony at the company's office in Kingston, is a significant development in DDL's history as Persaud, 85, has been at its helm since 1975.
In fact, he is credited largely for instituting the changes which transformed the once bankrupt company into the success story it is today. Despite giving up the chairmanship though, Persaud said he will continue to be an advisor to DDL, retain his office in Kingston, and provide other services as needed.
"I'm not getting any younger and so I have to slow down," he said yesterday as he sought to explain his reasons for giving up the position.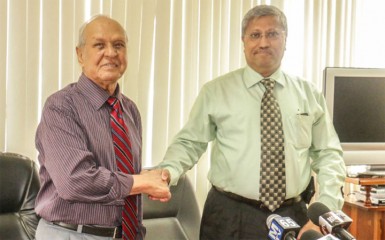 His replacement, Samaroo, "knows the business," which means that DDL will be in "capable and competent hands," Persaud assured shareholders and members of the public. Samaroo, 63, has been with DDL for about 46 years. He became Finance Director in 1979 and Managing Director in 1984. He continued to serve in this capacity until yesterday when he was confirmed as the company's new Chairman.
"He has been here from day one and he knows everything that I know," Persaud told reporters yesterday.
However, he has not been very visible in Guyana since he has spent much of his time creating a market for the company's product, particularly its rum, in North America.
Samaroo said that eight of his years at DDL have been spent building and understanding international markets and marketing the brand internationally. This has been his focus as managing director, and he said that it will be his main focus as DDL's new Chairman.
As a result of the work done this far, he said, DDL saw its overseas market grow by 23% in 2012, and he expressed confidence that growth for 2013 will exceed 30%.
As Samaroo gears to ramp up efforts to market DDL's products overseas, he said he will be focusing on improving the company's organizational capacity – developing a core of people with the skills necessary to take the company forward. In the process, "each of the business units (juices, rum, etc) will be going through rigorous evaluations to look for growth opportunities."
But as the company's success has climbed, so has the number of alcohol-related altercations and accidents.
Additionally, underage alcohol consumption in Guyana remains an issue that authorities have not been able to adequately address.
In the light of these realities Samaroo said that the company is well aware of its social obligations and will be making efforts to curb some of the alcohol-related ails affecting Guyana's society.
He said the company continues to encourage responsible consumption, while subscribing to international best practices on these issues.
A few years ago, he said, DDL re-affirmed efforts to convince retailers to stop selling alcohol to under-aged persons. He said that the company has been having some problems getting some retailers to subscribe, but it intends to revive the initiative and will be dealing more seriously with retailers who refuse to abide by best practices.
Asked if the company supports efforts to rehabilitate persons who have become addicted to alcohol, the chairman said "there is only so much that can be done but we will be supportive of well-managed efforts to provide rehab services."
When Persaud took over the reins of DDL in 1975 the company was bankrupt and did not own its own distillery. Today, the company boasts the most modern distillery in the Caribbean, while its rum, under the El Dorado label, has received international awards. DDL also holds the franchise in Guyana for Pepsi, Seven Up and Slice drinks.
Persaud said that DDL achieved all this after starting from scratch, and that it was achieved on "peanuts".
Comments

Legal Advisor to the Police, retired Justice of Appeal, Claudette Singh yesterday testified that there was insufficient evidence in the allegation made by Andriff Gillard of an alleged plot to assassinate President David Granger.

Today at 2 pm the 30 councillors of the Georgetown City Council will once again cast a vote on the future of metered parking in the city and several of them have told Stabroek News that they want to be sure their vote accurately represents a mandate from residents.

Crime Chief Wendell Blanhum yesterday made a written request to be recalled before the Commission of Inquiry (CoI) investigating the allegation of a plot to kill the President of Guyana to defend himself against "appalling" statements made by Assistant Commissioner of Police David Ramnarine.

Two men were yesterday remanded to prison by a city magistrate after they were charged with the fatal stabbing of Rawle Rodrigues which occurred in January.

Amid accusations that he has improperly tried to direct a constitutional commission, President David Granger said he had asked for a delay in police promotions to address complaints that have been made against law enforcers.