Highways will soon be well lit as part of a $38 million initiative that is expected to see a reduction in crime and accidents, according to Electrical Operations Officer of the Ministry of Public Works Terrence O'Brien.
O'Brien said the ministry embarked on a new method to repair the lights along the country's roadways on December 31 and that contractors have been mandated to fix all defects.
He noted that contractors are currently repairing lights along the West Bank Demerara, from Versailles to the Demerara Harbour Bridge, West Coast Demerara, and at Corentyne, Berbice. In addition, highway lights are also being installed at Corentyne, Berbice, West Coast Berbice, and Linden,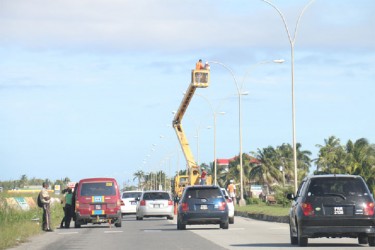 where poles have already been planted, according to O'Brien.
Already, lights along the railway embankment road from Sheriff Street to Ogle, East Coast Demerara, have been refurbished, nearly a year after they first went out. According to O'Brien, feedback from the contractor revealed that all the lights along the railway embankment have been repaired, except for two lamps that are still to be replaced.
"The entire country will be addressed," he explained. "Within a manner of weeks, you will see a significant amount of improvement with the highway lighting in the country," he added, while indicating that the lighting is being done gradually.
He added that the current lights on highways need to be properly maintained and the ministry will put systems in place to ensure that happens.
In addition to highways, what were labelled 'avenues'— Sheriff Street, Vlissingen Road, Camp Road and Water Street, among others—will receive lighting under the contractual arrangement with the five companies hired to install lights allotted to areas across the nation. The areas, according to O'Brien, were broken down into lots and were assigned to the contractors.
The ministry is hoping that the amount of accidents on poorly-lit roadways will be reduced and O'Brien said the ministry will be paying keen attention to this. It will also be looking to see if crime, and particularly vandalism, decreases when those areas are lit.
The cost of this major lighting project is $38,194,740 and the total number of lamps to be installed, according to O'Brien, is 5,388.
He further mentioned that he had indicated to the contractors that they are to maintain, protect and put measures in place to keep the lamps in place. He said they will be held accountable for any damage or loss of property. Additionally, the ministry will put in place a system of its own where the contractors are to submit a report every two weeks on the works completed. The ministry has a schedule to ensure contractors comply with the maintenance programme for those lights that have been refurbished or, in some instances, the ones that are newly installed.
Plans are also being made to install lighting in areas that are not being covered by the five contractors, disclosed O'Brien. The areas to receive lights, which he called critical, are police stations, schools and health centres.
The contractors that are tasked with refurbishing, repairs and maintenance of all the lights in the country are Dynamics Engineering Company Limited, Green's Electrical Contracting Ser-vices, Bargon Construction Services Limited, Ramotar and Son's Contracting Services and Cummings Electrical Services.
Comments

Allen Chastanet   CASTRIES, St. Lucia, (Reuters) – The prime minister of the small Caribbean country of St.
Dear Editor, Kindly publish my response, as follows, with regard to an anonymous letter published by the Guyana Chronicle on Wednesday, August 16, 2017, under the caption 'Will the Auditor General investigate the deputy chief elections officer?' Editor, this letter is the second deliberate attempt aimed at besmirching my integrity, obviously with clandestine objectives. 

Dawn Hastings-Williams President David Granger, today, announced that Minister within the Ministry of Communities,  Dawn Hastings-Williams will assume the portfolio of Minister of Public Affairs in the Ministry of the Presidency with effect from September 1, 2017.

Grace Mugabe   JOHANNESBURG,  (Reuters) – South African police confirmed on Wednesday that Zimbabwean first lady Grace Mugabe remained in the country and had applied for diplomatic immunity after being accused of assaulting a 20-year-old model in an upmarket Johannesburg hotel.

Daniel Craig   LONDON, (Reuters) – British actor Daniel Craig has confirmed he will reprise the role of James Bond one last time, ending months of speculation.