An Agricola woman was found dead in her backyard with her throat slit late Friday night, following an attack suspected to have been carried out by her son's jealous girlfriend.
It is believed that Donna Taylor's death was the result of a relationship between her son and a visiting houseguest, who jumped from the veranda of the two-storey house to the escape attackers.
Taylor, 55, of Lot 1617 Public Road, Agricola was later found with her throat slit and her hands tied behind her back in her yard, while visiting British national Samantha Sabat, who was lodging at  her home, suffered a broken arm and head injuries after jumping from the veranda.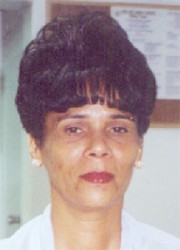 There are conflicting reports about the attack but Taylor's family is suggesting that she was the victim of the danger created by her son's entanglement with the two women.
Up to yesterday afternoon, police confirmed that a woman was arrested and is in police custody assisting with the investigation.
Taylor's family said that the woman who was arrested was her son's girlfriend, who became enraged after finding out that he was having an affair with the houseguest. They said the man's girlfriend had threatened to kill him earlier that day and had showed up at the Agricola home with other men to kill Sabat.

A close relative of Donna, who asked not to be named, said that Sabat apparently became involved with Donna's son during her stay in the country. "He has his girl and she would come and they would be in the house so Samantha saw her many times," the family member said. "The other girl is very jealous. Yesterday [Friday] she kept calling him and threatening him saying that she would kill him."
According to the relative, the woman was identified by Sabat as one of the attackers who turned up at the house late that night and started to beat them. The person said Samantha told them that she was fearful when they started to attack her and decided to jump over the veranda to safety.
"She jump over the veranda so they thought she was dead but she was alive," the relative said, noting that Sabat recalled seeing the attackers with knives and guns.
The relative said Taylor had four stab wounds in her head.
Donna Taylor was the mother of four children.
 'She knew who it was'
"I don't know if there was any jealousy between my son, Samantha and the girl," said Donna's husband, Bertram Taylor, when asked if a relationship between Sabat and his son could have caused what occurred.
But Sabat has identified Donna's son girlfriend as one of the attackers who showed up at the home in the rain about midnight. There was no sign of a robbery except for broken windows in two bedrooms. However, this was disputed by family and villagers, who said that the broken windows were staged to make people believe it was a robbery. Shards of glass were scattered across the concrete in the yard but there was no evidence of broken glass in the rooms.
"If it was a bandit they would have killed her right in the house. She knew who it was," one villager told Stabroek News.
Bertram Taylor, however, said that he was unable to locate some $150,000 and a video camera. He stated that the house was not ransacked and the only thing he saw was a strange knife. "My wife gone so she can't say nothing, but what I do know is she knew who the person was—that's why they killed her."
One of the tenants living in the bottom flat of the house said she was awakened by a high-pitched scream. "I heard one scream. It was so high pitched. Just one— it was loud and the baby woke up. While I was trying to get the baby back to sleep, I heard running upstairs from the front door to the back," the woman said.
She said she listened intently, but "I heard nothing after that until the police knocked on my door. That's when I heard someone was killed. I couldn't hear anything else because it was raining."
A second tenant also living in the lower flat was also awakened by the screaming and convinced that it Donna she had heard screaming, she quickly contacted her relatives in Diamond, East Bank  Demerara, who had a contact number for one of Donna's daughters.
"I received a call from my daughter saying that Donna was making noise upstairs and something wrong, that I should go check," Bertram Taylor said. Bertram Taylor is a Security Officer at Vieira Security Service at Houston. He said that he had signed into his shift around seven but left immediately when he got the call around 10 pm.
"When I come, I see the gate and the door open and Samantha was downstairs lying. She was lying there and I asked her where is Donna? Where is Donna? Where is my wife? …she said that she didn't know," he recalled.
"So I went upstairs, searching all over and then after I ain't seeing my wife I was so confused. I take her [Samantha] and carried her upstairs and told her to stay there till I come back," he said, recounting that he rushed back to his workplace and sent his son, who was also employed at security service, home and told him to watch over Sabat.
"I went to the police station and tell them," he added, recalling the image of his wife's lifeless body lying on the concrete. "When I returned I saw my daughter and everyone in front of the yard and they said that they found her in the backyard. I saw my wife lying in front and I said wha? She didn't look like she dead so I hustle and take her to the hospital," he stated.
He said she was wearing only tights and the upper part of her body was exposed and he threw a sheet over her.
"We rushed them both to the hospital but the doctors pronounced her dead… I couldn't believe it. So, I said, 'You sure? Check her properly…' I didn't feel that she died because I leave my wife home alive… so, I didn't feel she was dead and the doctor tell me that he couldn't do anything that she wasn't breathing.
"When I was giving the statements water running out my eyes because I getting the feelings that she is still around.  Maybe later down… I don't know how I feel right now. I feel that she didn't deserve that. She was a good woman…we need to know the truth. I didn't even know if they were at the back killing her when I come home the first time," Bertram said crying. "She was a good woman."
Pastor Natasha Corrica, a resident of Agricola, said Taylor was a friendly neighbour who was always ready to help. "She was like a mother to me even though I was her pastor. She has a sweet spirit… very loving and the last time she was in church she came to me and said you're my pastor and I love you. I didn't know that somebody would take her from us.
"She was a wonderful neighbour. She was a very charitable person. She liked helping people. I don't know who would want to hurt her like this… Who would want to hurt her such a good woman?"
Corrica said Taylor was a strong woman and she would have fought back. "She is a strong woman and I believe that she had to know her killer. I believe that she didn't just go down like that… She would fight to defend herself and her family."
Many Agricola residents gathered at Taylor's home to mourn with her family yesterday  morning.
Comments
The police say they are investigating a shooting incident which occurred about 11:20 am today at Leopold and Breda streets, Charlestown during which shop owner, Jacqueline Lagnah, 55, of 83 Leopold and Breda streets, sustained two suspected gunshot injuries to her lower back.

CARACAS/SAN CRISTOBAL, Venezuela,  (Reuters) – A wave of looting by hungry mobs across Venezuela has left streets of shuttered shops in provincial towns and pushed some store owners to arm themselves with guns and machetes, stirring fear that the turmoil could spread to the capital Caracas.

Taariq Stephens (New York Daily News photo) A Brooklyn man got a 41-year maximum prison sentence yesterday for killing a 16-year-old Guyanese girl who authorities said rejected his advances.

PRETORIA,  (Reuters) – Debutant Lungi Ngidi took six wickets as South Africa defeated India by 135 runs to claim victory in the second test in Pretoria today and also win the series with an unassailable 2-0 lead in the three-match contest.

(Trinidad Guardian) Environmental activist group Fishermen and Friends of the Sea (FFOS) has obtained an interim injunction barring the Government from continuing work on the first phase of the $400M Churchill Roosevelt Highway Extension to Manzanilla.