Two interior workers were each granted $250,000 bail on Friday when they appeared before the Georgetown Magistrates' Courts charged with stealing over $8 million in equipment from a Mahdia dredge operator.
It is alleged that on January 28, at Noitgedacht backdam, Mahdia, Juan Samuels and Michael Edmondson stole a hydraulic pump valued $3.7 million, an excavator computer box valued $4.5 million, one drum of hydraulic oil valued $171,000 and two Power Master batteries valued $54,000.
According to Prosecutor Michael Grant, who presented the police's case the total value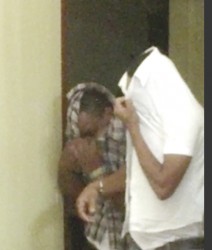 of the items was $8,425,000 and they were the property of Axiel Marcus.
The men were not required to plead.
It is the police's case that on the night in question, Samuels, 33, of Morabally Street, Linden and Edmondson, 27, of Kumaka Mines were seen next to an excavator and a parked 4X4 vehicle by a mechanic Marcus had hired to repair his broken down excavator.
According to Grant, after realizing that the mechanic had seen the mentioned stolen articles in the tray of the vehicle they were standing next to, Samuels and Edmondson jumped into the vehicle and drove away. A report was made at Mahdia, where the two were arrested and charged. Grant added that further investigations were conducted, but the items were not recovered.
Chief Magistrate Priya Sewnarine-Beharry, placed Edmondson and Samuels on $250,000 bail each, on the condition that they lodge their passports. There was no objection from Grant. The case was then transferred to the Mahdia Magistrates Court, where it will be called again on April 14.
Comments

Vamanadev Hiralall, of the privately-run Saraswati Vidya Niketan (SVN), is the country's top performer at this year's Caribbean Advanced Proficiency Examinations (CAPE) after achieving an accumulated 13 grade one and 3 grade two passes.

Twenty-six students in the top one percent of the 12,684 who sat this year's Caribbean Secondary Education Certification (CSEC) examinations earned 12 or more Grade I passes, with half of them, including the top performer, coming from Queen's College (QC).

On the second day of the Commission of Inquiry (CoI) into African ancestral lands and other matters, four witnesses made cases for the return of lands they feel they are rightly entitled to, which were either taken by the state or occupied by private owners.

Shelton George, the man charged with both murdering a waitress at a Chinese restaurant and the attempted murder of a magistrate, was found dead in his cell at the Lusignan Prison yesterday morning.

The Chairman of the Triumph Neighbourhood Democratic Council (NDC) yesterday instructed workers employed on a private site, reportedly intended to build a first-floor pool, to cease operations, just two days after residents called on authorities to halt its construction.