Motorists are concerned about the deteriorating condition of Chapel Street, New Amsterdam and have called on the authorities to fix it urgently. But most of all, they are peeved that trucks belonging to the beverage company, Demerara Distillers Limited (DDL) would be parked along the street daily, preventing easy access.
They said the trucks would force them to drop in huge potholes, thus causing damage to their vehicles. One driver told this newspaper that he spoke to a security guard on duty and he responded that "many like you complained before…" He said the guard advised him to speak to the company's branch manager about the issue. The driver lamented that he was surprised that even though many others had complained, nothing was done.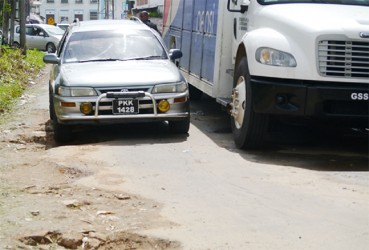 According to drivers, "DDL does not own the street and it is not fair for them to block it. They should help to repair it and make special parking space, like what another beverage company in the town has done and from which others are benefiting as well."
They called on the drivers of the trucks to observe two of the five 'Cs' in driving: "consideration and common-sense," the next time they are parking. The motorists also said that "this is happening in other streets as well and something needs to be done."
Comments

(Trinidad Guardian) Education Minister Anthony Garcia says the University of Trinidad and Tobago (UTT) is of the view that the organisation is "overstaffed and to run the university efficiently it will mean they have to trim fat." But former Tertiary Education Minister Fazal Karim is warning that the decision to retrench 287 staff members, will "compromise the quality of teaching and learning and administration at the university," and may impact its accreditation with the Accreditation Council of Trinidad and Tobago (ACTT).

In preparation for Guyana's emerging oil and gas sector and the bustling business usually synonymous with the industry, the Pegasus Hotel is expected to undergo a huge expansion which includes office and residential rental spaces.

Police Commissioner Seelall Persaud is to resume his duties today after spending approximately six months on leave, Public Security Minister Khemraj Ramjattan yesterday confirmed to Stabroek News.
The Alliance For Change (AFC) yesterday launched a scathing attack on the union GAWU, accusing it of decades of sabotage of the sugar industry and not genuinely representing the interests of its workers.

The importance of foot health, especially for persons with diabetes, was emphasized by Podologist Yvonne Braithwaite yesterday, when she launched the local leg of Rovon Health Care Inc, which includes a foot spa.