Suicide continues to plague Region Six with nine victims so far for this year and with 77 persons attempting to end their lives mainly through the use of pesticide.
Last year, there were 371 cases of attempted suicide and 15 victims with the ages for both categories ranging between 14 and 54.
As such, the Berbice Regional Health Authority (BRHA) on Wednesday held a suicide prevention programme in an effort to brainstorm ideas from key persons including those from faith-based and non-governmental organizations and the police force to combat the issue.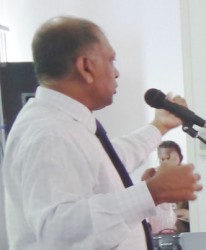 Speaking at the opening of the session, Minister of Agriculture, Dr. Leslie Ramsammy told the gathering that monitoring the sale of pesticides may be an effective way of preventing suicide. He emphasised that pesticides should not be sold to a person unless he/she comes with someone within the family.
A record should be kept of buyers and they should also prove to have a genuine use for it. These proposals had been sent to the pesticides board.
The minister said too that keeping the poison locked up and delaying the time in finding the key may cause the intended victim to change his mind.
According to him, suicide is a social problem that involves all stakeholders but someone should take leadership.
Mental health, he said is a major factor leading to suicide and that some persons may not have the skills and capacity to deal with stress. He said too that depression is a major problem in Guyana.
Persons were called upon to be "intrusive into people's homes and families…" and to be "gatekeepers" so as to help solve their problems.
It was found that many attempted suicide victims did not really want to die but would in fact, like the doctors to do their best to save their lives.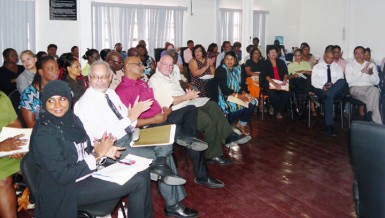 Chief Executive Officer of the BRHA, Dr. Vishwa Mahadeo was confident that "suicide is something we can handle" and urged participants to help in the fight to prevent it. He said that from a "health perspective, we are taking this issue seriously."
Public Relations Officer, Michael Itwaru told Stabroek News that important points would be compiled and a document would be drafted.
This would then be reviewed by a special committee before moving to a "stage of implementation that would start from the grass-root level."
Suicide has been a major problem during the PPP/C's 21-year tenure but there has been no discernible plan in areas like Region Six and Two where the rate is comparatively high.
Comments

The body of 13-year-old Leonard Archibald, who was raped and then dumped in the Berbice River, was recovered this afternoon.

Lawrence Duprey (Trinidad Express) Former executive chairman of CL Financial Lawrence Duprey was ordered by a Florida judge in July to pay more than US$60 million to British American Insurance Company (BAICO) in damages in relation to the TT$1.9 billion Green Island project in Osceola County, Florida.

Bharrat Jagdeo The PPP/C is committed to constitutional reform, says Opposition Leader Bharrat Jagdeo.

Ray Lengend Ray Lengend who went on a fire-bombing spree of mosques throughout southeast Queens, this week pleaded guilty to the crimes against Muslims who the 45-year-old Guyanese man claimed in 2012 had been "trying to take over his life", according to the Times Ledger in Queens, New York.

BEIJING/SEOUL, (Reuters) – A small earthquake near North Korea's nuclear test site on Saturday was probably not manmade, the nuclear proliferation watchdog and a South Korean official said, easing fears Pyongyang had exploded another nuclear bomb just weeks after its last one.