A young carpenter of Woodley Park, West Coast Berbice was murdered at a friend's home at D' Edward Village on Sunday night but claims by the friend that they were the victims of robbers are being treated with suspicion.
Dinesh 'Kevin' Harrylall, 20, was discovered in the home of his friend, who is now in the custody of the police and is being described as a suspect.
Harrylall was found lying face up on a carpet with a gaping wound to his right temple and across his forehead. He also sustained seven stab wounds to his back and his right hand was "black and blue."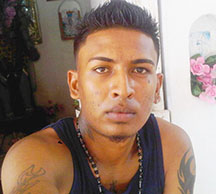 A blood-stained rolling pin was found in the kitchen and a knife that also had blood was recovered in a Kali temple attached to the friend's house.
The friend, a spiritualist, had invited Harrylall to his home.
Harrylall's father, Raymand, said his son received a call earlier on Sunday from the man, who wanted him to go over to pick up some jewellery he (the friend) had borrowed.
He said his son did not want to go. However, he said the two started texting each other and around 10:45 pm his son asked him to drop him to the man's house.
Once there, his son told him that he would spend the night and return home the following morning.
However, around 12:40 am yesterday, Raymand woke up to the sound of a vehicle blowing in front of his house. He looked out and saw another of his son's friends, who told him that the spiritualist had called him to go to his house urgently.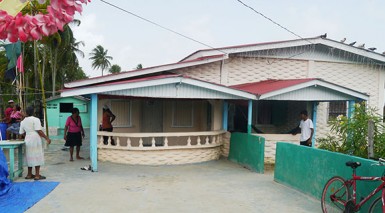 The friend told Raymand that when he got there he had seen "[the spiritualist] on the ground fluttering." Raymand asked the man, "Where is Kevin?" The friend replied that he did not see him. As a result, Raymand told the man to go to station to make a report, while he went to the house.
He said he did not see the spiritualist when he entered the house. Instead, he found his son's lifeless body with his shirt raised up lying in a pool of blood. He assumed that the murder occurred sometime between 11 pm on Sunday and 12:15 am yesterday. Raymand said he strongly believed that more than one person was involved in murdering his son.
The house was ransacked consistent with a robbery. However, Raymand said he found it strange that if there had indeed been a robbery, his son was brutally murdered while his friend "did not have a scratch."
He said he got angry when he saw his son in that condition and he shouted who could have done that.
When the police arrived shortly after, they called out to the man but he did not respond. They then dialed his cellphone number and it rang from the kitchen. Police then ordered him to "come out" or threatened to shoot.
The man then responded, "Don't shoot." He subsequently emerged from the house. He related that bandits had attacked them. He said he begged them not to shoot him and gave them $600,000.
The other friend who took the message to Raymand was detained for questioning but was released shortly after.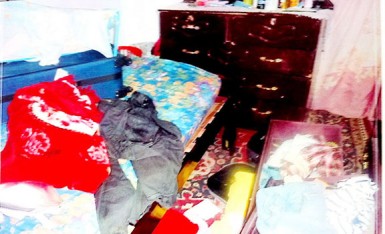 Meanwhile, the spiritualist's mother later told Stabroek News that she did not believe her son had committed the murder. "Why would he do that when he would cook and they [Harrylall and his family] would come and eat and have a nice time?" she asked.
She said she was at her home in another part of Berbice, when she received a call just before 1 am about a robbery.
The caller told her that bandits broke into the house, which belongs to her, and she should "come quick and see."
When she got to the scene, "a whole set of police" were already there and had cordoned the area. She inquired what was going on and was told that there was a "dead in the house." She was only allowed to enter about one and a half hours later.
According to the woman, "I don't know what relationship my son had with this boy but he would spend a lot of time here and he [her son] would give him a lot of money" and other items.
She had moved out of the house to live at her mother's house with her husband and a handicapped daughter six years ago.
Her son, who was a Christian like the rest of the family, began doing spiritual healing at the Kali temple sometime after.
Comments

A section of the Kitty Public Road is to be closed from Wednesday as the Ministry of Public Infrastructure steps up road works in the area.

Anil Nandlall Former Attorney General Anil Nandlall today rejected an explanation by Minister of State, Joseph Harmon over the government's directive to the Police Service Commission to halt promotions.

The improvised weapons (Prisons photo) Prison Staff this morning with the support of the members of the other services, reported for duty at the new holding area lusignan Prison.

Nicolas Maduro CARACAS/LIMA, (Reuters) – A group of 12 regional nations plus the United States rejected Venezuela's new government-allied legislative superbody, saying they would continue to regard the opposition-controlled congress as the country's only legitimate law maker.

Eighteen prisoners at the Lusignan penitentiary were being treated for injuries last night following a reported attempt to kill a fellow inmate during which warders fired shots.