Prior to being disbarred by the Bar Council of England and Wales, Justice Rabi Sukul would have known that he was being investigated, an officer involved in the investigation has said.
When contacted, the UK Bar Standards Board told Stabroek News that a complaint that might lead to a disbarment, would be made anywhere from three to nine months prior.
Stabroek News then contacted Michael Carter, a Case Officer of the Investigations and Hearing Team at the Council in London, via telephone for a comment. He said that the date the complaint was first filed was confidential at the moment. Since many complaints were dismissed, he said, they are initially not published in the public domain. The complaint would make its way to the conduct committee prior to going before the tribunal and afterwards the information would be become a matter of public record.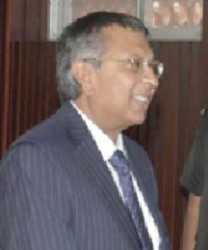 He did note that Sukul would have been made aware that he was under investigation.
Acting Chancellor of the Judiciary Justice Carl Singh requested Justice Sukul's resignation as a judge of the Court of Appeal of Guyana following his disbarment on February 3.
Justice Singh was made aware of Justice Sukul's disbarment on February 14, eleven days after the hearing had taken place and had immediately sought and obtained confirmation of it from Justice Sukul.
Meanwhile, in an email response Carter had stated that "information which is appropriate for the Bar Standards Board to make public in relation to the complaints and disciplinary process is put on the Bar Standards Board's website. In this case, that is limited to the finding and sentence of the independent Disciplinary Tribunal, which made its decision on 3 February 2014."
Sukul was appointed an Appeal Court Judge in Guyana on July 26, 2013.
A statement from the Office of the Chancellor on February 15 said Sukul had "last week" applied for and was granted special leave "to attend to urgent personal matters in the United Kingdom."
The England and Wales Bar Standards Board said Sukul was disbarred for intentionally misleading his client by drafting false grounds of appeal. Sukul was not present at the hearing.
A statement issued by the Bar Council noted that "the panel heard that Mr Sukul's aforementioned client had originally been found guilty of drugs-related offences at Snaresbrook Crown Court and sentenced to a Young Offenders Institute."
Comments

Michael Bhopaul, 16, doesn't know if he is this year's best performer at    the Caribbean Secondary Examination Certificate (CSEC) Examinations, but with preliminary results showing that he has obtained passes in 25 subjects, he will be hard to top.

Inmates at the Lusignan Prison turned over 33 improvised weapons yesterday morning to prison authorities, who say that they also apologised to the prison staff for the unrest at the facility on Friday night.

Well known Berbice attorney Chandra Sohan was arrested on Friday after he allegedly struck a pedestrian in a hit and run accident along the Williamsburg Public Road.

For a little more than an hour yesterday, the streets outside the Mackenzie Market rang with the voices of dozens of Linden residents who turned out to support a march against homosexuality.
The woman killed during the violent storm in Jawalla, Region Seven on Friday, has been identified as a mother of two, who was seven months pregnant.