The suspect in the murder of 20-year-old Dinesh 'Kevin' Harrylall at D' Edward, West Bank Berbice on Sunday night remains in custody as investigations continue.
Police are awaiting the results of a post-mortem examination before instituting charges.
Harrylall of Woodley Park was found lying face up on a carpet with a gaping wound to his right temple and across his forehead. He also sustained seven stab wounds to his back and his right hand was "black and blue."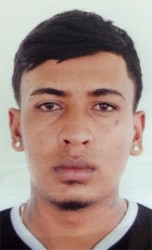 A blood-stained rolling pin was found in the kitchen and a knife that also had blood was recovered in a Kali temple attached to the friend's house. The friend, a spiritualist, had invited Harrylall to his home.
Harrylall's father, Raymand who dropped his son to the house around 10:45 pm said that around 12:40 am on Monday he woke up to the sound of a vehicle blowing in front of his house. He looked out and saw another of his son's friends, who told him that the spiritualist had called him to go to his house urgently.
He did not see the spiritualist when he entered the house. Instead, he found his son's lifeless body with his shirt raised up lying in a pool of blood.
He assumed that the murder occurred sometime between 11 pm on Sunday and 12:15 am on Monday. Raymand said he strongly believed that more than one person was involved in murdering his son.
Comments

Following an outreach in Lethem today, President David Granger (centre at left side of table) held a  high-level security meeting with a number of officials including Guyana Defence Force Chief of Staff, Brigadier Patrick West (third from right on right side of table) and British security sector reform advisor Russell Combe (second from right on right side of table) among others.

The Guyana Power and Light (GPL) says that just after midday today, three armed bandits stormed its Parika Customer Service Centre; robbing the location of all revenues received up until that time, holding the  staff and customers at gun point and disarming a security guard of a gun.

The Management of Cheddi Jagan International Airport Corporation (CJIAC) is currently undertaking a massive expansion project  and a Temporary Arrivals Terminal Building was recently constructed.

Tourism Minister Shamfa Cudjoe announced the decision to close the company. (Trinidad Express) The Tourism Development Company (TDC) has ceased operations.

Cevons clearing city garbage WPA STATEMENT ON THE UNRESOLVED ISSUE OF GARBAGE COLLECTION IN THE GEORGETOWN MUNICIPALITY The WPA is deeply concerned that the Georgetown City Council's inability to honour its financial obligations to Cevons Waste Management and Puran Brothers has the potential of endangering the health and lives of citizens.