Woman dies after car crashes into parked truck
A Port-Mortem Examina-tion (PME) is expected to be done today on the body of 21-year-old Jasmine Norton who died following an accident on the Sosedyke/Linden Highway on Sunday night.
Reports are that Norton, a supervisor at the Kuru Kuru Training College, had just left her workplace, where she lived as well, when motor car PPP 9053, she was travelling in collided with a parked truck on the road. This newspaper was made to understand that the truck had  broken down and had no tail lights on.
The accident happened about 15 minutes after Norton left the college around 7:30pm to visit her younger sister, who lives at Diamond, East Bank Demerara.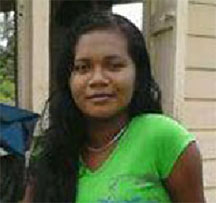 Sources say that the driver of the motor car is in police custody assisting with investigations.
Speaking with Stabroek News, Elaine Norton, Norton's aunt said the family heard rumours of the accident and was not able to confirm Norton's death until around 12:00pm on Monday.
The woman said she went to the leader of her village in Region 1 on Monday morning, who contacted the Administra-tor of the College. She added that they were told by the Administrator that staff members had left to identify the body. Subsequently, it was confirmed that the young woman was dead.
The young woman left Region One a few years ago to attend the Kuru Kuru College. She subsequently started to work at the college as an instructor before advancing to a supervisor.
She also lived with her grandparents after her mother died nine years ago, this newspaper was told.
Norton's family has since travelled from the north west to Georgetown.
Most Read This Week