The Caribbean Community (Caricom) on Tuesday welcomed South African, Maureen Isabella Modiselle as Am-bassador to Cari-com and expressed confidence that the two sides could benefit from initiating air transport services in which they had both expressed a keen interest.
The newly-accredited envoy presented her credentials to Irwin LaRocque, Secretary-General of Caricom, at a ceremony hosted at the Caricom Secretariat, a press statement from Caricom said. Modiselle gave the assurances of her country's cooperation and loyalty in promoting the ideals and objectives of the Community. Underscoring the wisdom of unity, she pointed to the strides the Region had taken on its path to growth and sustainable development and the advancement of its people. United countries, she said, were better empowered to defend their interests.
In his welcome address, the secretary-general said that a platform is being built from which bilateral cooperation could be strengthened through more regular and structured political interface.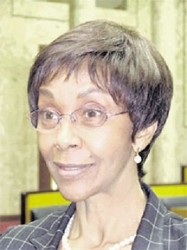 He identified the fostering of trade and investment between the private sectors of the Community and South Africa, tourism and cultural and people-to-people exchanges cooperation among the areas for cooperation that could emerge. LaRocque also said that that there was no doubt that the initiation of air transport services, in which both sides had expressed a keen interest, would help in realising the full socio-economic potential of relations between the South Africa and Caricom.
The secretary-general alluded to the cooperation efforts between South Africa and Caricom, including the fight against non-communicable diseases (NCDs), and against crime and violence.
"Experience and history have taught both South Africa and CARICOM that standing together can make a difference. In that regard, your strong support for positions taken by the Community in international fora on issues of importance to us, such as Climate Change and Non-Communicable Diseases (NCDs), is highly appreciated.
"Also, we both recognise that Crime and Security, the negative impact of a protracted global, financial and economic crisis on development, and the need to reform global governance structures are but some of the defining challenges of our time. To confront them, it is necessary to strengthen partnerships with like-minded countries such as we are doing here today with South Africa," he said.
LaRocque also raised the matters of debt and the graduation of Caricom member states from concessionary financing from international financial institutions and other multilateral agencies due to "the flawed GDP-based criteria."
"It is critical that avenues be opened for renewed access to concessionary financing given our high level of economic vulnerability which contributes in large measure to our high level of indebtedness. South Africa has an influential voice in The Commonwealth, due partly to its membership of the powerful G20 Group of Nations and the BRICS which places it at the leadership table in global affairs. South Africa is therefore well placed to advocate on our behalf in all those for a," the secretary-general said.
Comments

Wijeyadasa Rajapakshe   COLOMBO, (Reuters) – Sri Lankan President Maithripala Sirisena today sacked the justice minister over his criticism of a $1.1 billion deal, signed last month, to lease a port to a Chinese company, the cabinet spokesman said.

NEW YORK,  (Reuters) – Two Harvard University researchers said in a study published today they had collected scientific data proving Exxon Mobil Corp made "explicit factual misrepresentations" in newspaper ads it purchased to convey its views on the oil industry and climate science.

In the wake of rising bad loans and a massive alleged fraud against it this year, the Guyana Bank for Trade and Industry (GBTI) has posted an unaudited net after tax profit of $603m for the first six months of this year compared to $961m in the same period for 2016.

Vamanadev Hiralall, of the privately-run Saraswati Vidya Niketan (SVN), is the country's top performer at this year's Caribbean Advanced Proficiency Examinations (CAPE) after achieving an accumulated 13 grade one and 3 grade two passes.

Twenty-six students in the top one percent of the 12,684 who sat this year's Caribbean Secondary Education Certification (CSEC) examinations earned 12 or more Grade I passes, with half of them, including the top performer, coming from Queen's College (QC).