Patricia Younge, the young woman who was found buried in a shallow grave in the cemetery at Paradise, East Coast Demerara, was strangled, an autopsy found yesterday.
However, Younge's relatives will have to wait between three weeks and a month before they will know if she was also sexually violated as is suspected.
"They said that she was strangled, it seems, with she panty or brassiere. But we will have to wait three weeks to a month to know if she get rape too because they take samples… and won't get it back till that time," her uncle, Kewis Younge, told Stabroek News yesterday.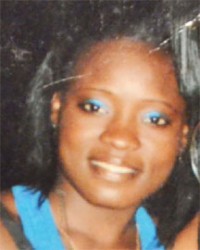 When asked for an update on the investigation yesterday, Crime Chief Seelall Persaud told reporters that he believes that the young woman's boyfriend, with whom she had been living at Paradise, was still in custody.
When asked if the man was a prime suspect, Persaud stated that he was a person of interest.
However, the woman' uncle said that her boyfriend was released yesterday.
Patricia Younge, 19, was last seen alive on Sunday when she left to view the Mashramani festivities in the city. The body of the former waitress of the Bettencourt Restaurant, on D'Urban Street, was found on Wednesday evening in the shallow grave after a search was launched for her. It appeared that she was raped before she was killed and a police source said that that from the initial investigations, the crimes seemed to be the act of more than one person.
Younge will be buried on Monday.
Comments

Several candidates recorded outstanding performances at this year's Caribbean Advanced Proficiency Examination (CAPE).

 Geometric improvements will be carried out on the East Coast Railway Embankment Road come September for smoother traffic flow.
Swift action by the Law Enforcement and Investigation Division (LEID) of the Guyana Revenue Authority (GRA) aided in the removal of a large quantity of seized foreign chicken from two separate cold storage facilities in the Berbice area after it was discovered that the commodities were unlawfully being disposed of, the GRA said today.

Farha Faiz, a lawyer, speaks with the media after a verdict for the controversial Muslim quick divorce law outside the Supreme Court in New Delhi, India August 22, 2017.  

Defeat Tallawahs by 37 runs Chris Gayle, playing in his 50th CPL match, produced his 63rd T20 fifty as St Kitts & Nevis Patriots cruised past Jamaica Tallawahs by 37 runs to guarantee a place in the playoffs for the first time in their three-year history.