Good Hope man shot in early morning mugging
A Good Hope, East Coast Demerara man is now in a critical condition at the Georgetown Public Hos-pital (GPH) after he was shot during a hold-up early yesterday morning.
Inshan Ali Ramlakhan was shot along the East Coast Public Road in the vicinity of Conversation Tree. He had been walking to his work place in the company of another male family member, when his assailant, who was riding a bicycle, pulled up to him and demanded that he hand over his valuables.
Stabroek News was told that the young relative handed over his cellphone to the robber but Ramlakhan refused and the robber shot him once to the left shoulder. The robber then relieved Ramlakhan of what he had in his pockets and left a black bag he had initially held onto before calmly riding away from the scene of the crime.
Police, in an official statement on the shooting, said Ramlakhan was shot on his left shoulder and the perpetrator stole three cellphones and $8,000. Although police gave the time of the shooting as 5:15am, Ramlakhan's relatives said the attack occurred almost two hours earlier.
It was the relative who had been accompanying Ramlakhan who managed to get help for the shot man. After the shooting, he rushed to the nearby home of his uncle and related what had happened.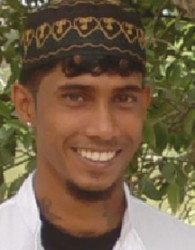 The uncle, Sunil Ramlakhan, told this newspaper that he then went to the road only to discover Ramlakhan's body in a pool of blood. He said that he then took his nephew to the hospital.
Bibi Ali, Ramlakhan's mother, who was visibly distraught, said her son works with his uncle and would normally leave home early in the morning. Yesterday was no different and he caught a bus and when he got off he was attacked.
Family members pointed to a criminal gang that loiters in Bel Air Village close by to where the attack took place.
They said that since the attack took place, they had only heard from the police once and they were concerned about justice.
They also said that the young boy who was with Ramlakhan was very traumatised by the attack. They said he could not speak and was shaking uncontrollably.
Ali thanked staffers at GPH for the medical attention provided to her son.
Most Read This Week