(Trinidad Express) Guyanese national Rosinda Nicholson, who was deported along with her ailing two-year-old son last year, has been allowed to seek medical treatment for her child in Trinidad and Tobago.
But Nicholson was told that she needs to obey the laws and not overstay her welcome.
The single mother has been travelling to Guyana and back to allow her son proper medical care.
Her son, Elijah Harris, who was born in Trinidad, has been diagnosed with autism.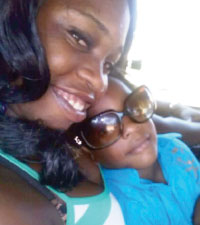 Nicholson, 23, said Elijah was unable to receive medical treatment in Guyana as he had no referrals from his doctors in Trinidad.
The mother and son returned to Trinidad last month.
"I am very exhausted by this travelling to and from Guyana for treatment. I really need the Government to assist us. I cannot work because I have to be travelling with my child all the time. All I am asking for is to be allowed to stay in the country for a while to get proper treatment for my son," she said on Friday.
Nicholson has an appointment with the Immigration Department on April 30.
"I am seeking an extension on my stay here in Trinidad. The doctors want my son to start school because he is showing so much potential. But if I enrol him in a school and we have to leave so often it will not help," she said.
Nicholson has made another appeal to Prime Minister Kamla Persad-Bissessar to allow her to stay in the country while her son, a Trinidad national, receives proper health care and an education.
Nicholson travelled to Trinidad five years ago to visit a relative. She was involved in a relationship with a Trinidadian national and gave birth to Elijah.
Nicholson was offered voluntary departure by the Immigration department to return to Guyana last October.
The mother and son returned to Trinidad on October 10, but they were detained at Piarco International Airport and then deported to Guyana.
Comments

The Guyana Power and Light (GPL) says that just after midday today, three armed bandits stormed its Parika Customer Service Centre; robbing the location of all revenues received up until that time, holding the  staff and customers at gun point and disarming a security guard of a gun.

The Management of Cheddi Jagan International Airport Corporation (CJIAC) is currently undertaking a massive expansion project  and a Temporary Arrivals Terminal Building was recently constructed.

Tourism Minister Shamfa Cudjoe announced the decision to close the company. (Trinidad Express) The Tourism Development Company (TDC) has ceased operations.

Cevons clearing city garbage WPA STATEMENT ON THE UNRESOLVED ISSUE OF GARBAGE COLLECTION IN THE GEORGETOWN MUNICIPALITY The WPA is deeply concerned that the Georgetown City Council's inability to honour its financial obligations to Cevons Waste Management and Puran Brothers has the potential of endangering the health and lives of citizens.
British High Commissioner to Guyana Greg  Quinn  yesterday said that it was hoped that more would have been done to push the constitutional reform process forward.