Alana Taylor, who police say was wrongfully charged with armed robbery, was granted a bail release by a High Court judge yesterday.
Taylor's release came after she was earlier in the day further remanded to prison in a city magistrate's court to await word on whether she would be discharged by the Director of Public Prosecutions (DPP).
When the case was called at the Georgetown Magistrates' Court, Magistrate Judy Latchman remanded to woman to prison once again after Police Prosecutor Joel Ricknauth said that the case file was still without some police statements.
As a result, he said the DPP would not be able to decide on whether to discharge Taylor without them. Ricknauth asked the court to adjourn the case until today, when those additional statements were expected to be filed.
Taylor was, however, informed by the magistrate that she could seek bail from the High Court. Subsequently, upon an application by Taylor's attorney, Mark Waldron, a High Court judge set bail for her release at $80,000.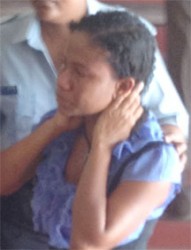 Taylor had been in jail for a week after being charged last week Wednesday. The single mother of three was accused of robbing her friend Elizabeth Hendricks of $341,000 worth of valuables, including a cellphone, a gold ring and a laptop, on March 2 at Lime Street.
However, at her arraignment Prosecutor Vishnu Hunt informed the court that he had received information to drop the charge against her. However, he said a retraction was impossible because the charge was already filed.
During the proceedings, Prosecutor Vishnu Hunt had raised no objections to the woman being released on bail, while noting that he had received instructions which vindicated her.
He had added that the prosecution actually wanted to use Taylor as a witness in the armed robbery case. Taylor was nevertheless remanded to prison.
Subsequently, when the case was called again last Friday, Prosecutor Ricknauth, after contacting his superiors, told Magistrate Latchman that his instruction was to proceed with the armed robbery charge against Taylor. That revelation caused Taylor to be further remanded.
Comments

A jet plane flies by the total solar eclipse in Guernsey, Wyoming U.S.

Superstar opener Chris Gayle … returns to the West Indies side for the first time in over two years.

The Church Street hotel and casino Hotelier Clifton Bacchus today filed a $2 billion lawsuit against the state-owned Guyana Chronicle newspaper following its publication of two recent articles which he has described as "highly defamatory." Guyana National Newspapers Limited, which is the publisher of the Guyana Chronicle, and the editor of the Guyana Chronicle were listed as the defendants in the suit, which was filed by a team of lawyers headed by former Attorney-General Anil Nandlall.

LONDON, (Reuters) – The gradual decline of West Indian cricket is hardly a new phenomenon but the latest capitulation of a once-dominant test match power has brought genuine expressions of sadness throughout the sport.

Eleven residents of the juvenile correctional centre at Onderneeming on the Essequibo Coast were apprehended between yesterday and this morning.