Twenty vehicles from the Ministry of Agriculture and the Guyana Sugar Corporation (GuySuCo) will soon begin using biofuel from a demonstration plant at Albion, GINA reported yesterday.
It said that the sugar corporation has started fuel production using 'blackstrap' molasses at its Bio-Ethanol Demonstration Plant in Albion, Region Six.
According to Minister of Agriculture Dr. Leslie Ramsammy, "Now that Albion sugar factory is grinding, which means they have access to molasses and the production of ethanol, they have begun again the production, the blending is being done; blending of regular fuel with the bio-ethanol and we have now identified the 20 Ministry of Agriculture and GuySuCo vehicles that you will see within a matter of days with the stickers that they are using E-10 fuel".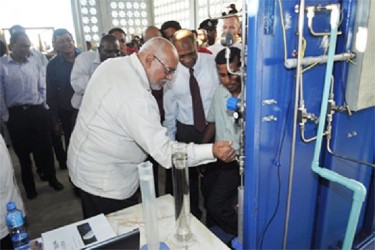 GINA said that Ramsammy explained that the factory is able to produce 1000 to 2000 litres of fuel per day.
The bio-ethanol plant, a collaborative effort of the Ministry of Agriculture and  GuySuCo, was commissioned in August 2013.
It was established to support the development of the Agro-Energy Sector, and utilises molasses, a by-product from the sugar cane production process, to produce ethanol of purity greater than 99 percent, GINA said.
Comments

The NOC compound (SN file photo) Eleven residents of the juvenile correctional centre at Onderneeming on the Essequibo Coast were apprehended between yesterday and this morning.

With growing pressure on the government over the overcrowding of jails, MP Michael Carrington is confident that the parliamentary bill in his name to ease penalties on marijuana use will gain the support of the governing APNU+AFC benches of which he is a member.
The National Toshaos Council (NTC) is to begin its conference today and high on the agenda will likely be ongoing concerns about the lands commission of inquiry (CoI) which the government has convened.
A Trinidad-based medical products company has secured four contracts worth $135.4m. According to the Ministry of the Presidency (MotP), Cabinet at its meeting on August 15,2017 noted the award of 16 multi-million-dollar contracts.

The police on Friday evening discovered an AK-47 assault rifle and a quantity of ammunition in a haversack at Kingston, Georgetown.