Alleged arsonist Linus La Cruz is to be arraigned today at the Georgetown Magistrate's Court for allegedly killing his  wife and four of their children at Port Kaituma last Friday.
Crime Chief Seelall Persaud told Stabroek News yesterday that the Director of Public Prosecu-tions has recommended that five murder charges be laid against La Cruz and this will be done. He said that La Cruz will today make his first court appearance.
La Cruz remains a patient at the Georgetown Public Hospital's Burn Care Unit after he was transferred from the Port Kaituma Hospital. He suffered burns to his body during the fire and was being treated at the public health facility up to last evening.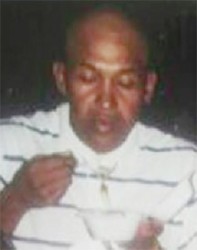 It is alleged that last Friday La Cruz locked the grille barricades on his Main Road, Port Kaituma home and set it ablaze, with his wife and four children inside.
The charred bodies of Lurlene La Cruz, 39; Lea La Cruz, 14; Labron La Cruz, 8; Lavette La Cruz, 3, and Levon La Cruz, 1, were later pulled from the debris.
Family members of the dead woman had told this newspaper that post-mortem results stated that Lurlene La Cruz was stabbed prior to being burnt. An autopsy performed on her and the children's bodies gave their cause of death as smoke inhalation and burns.
They were laid to rest in two small caskets on Tuesday after hundreds of residents of the community turned out to bid them goodbye.
The police on duty at the Port Kaituma Police Station, which is a short distance from the La Cruz home have come in for criticism as  reports surfaced that police officer(s) on duty at the time did not respond to a fifth child who had rushed to the station to inform that her father was threatening to burn the home down with her family inside. The child subsequently rushed to a church nearby her home and told congregation member, Grace Fraser what had transpired. Fraser had subsequently accompanied the child to the station and it was a few moments later, Fraser and officers at the station observed that the house was on fire.
This newspaper was told that at the time of the fire, only one police officer was on duty. The others were sleeping. Residents said they believe lives could have been saved if the police had responded to the child's complaints immediately.
Comments

Tourism Minister Shamfa Cudjoe announced the decision to close the company. (Trinidad Express) The Tourism Development Company (TDC) has ceased operations.

Cevons clearing city garbage WPA STATEMENT ON THE UNRESOLVED ISSUE OF GARBAGE COLLECTION IN THE GEORGETOWN MUNICIPALITY The WPA is deeply concerned that the Georgetown City Council's inability to honour its financial obligations to Cevons Waste Management and Puran Brothers has the potential of endangering the health and lives of citizens.
British High Commissioner to Guyana Greg  Quinn  yesterday said that it was hoped that more would have been done to push the constitutional reform process forward.

A West Coast Berbice man died after he reportedly set his one-storey house ablaze sometime around 11.20 am yesterday.

A Yarrowkabra miner was yesterday charged with the murder of a co-worker, whom he allegedly beat to death during an alcohol-fuelled clash last Saturday at a dredge site in the Potaro Backdam.