An outing at the Madewini Creek, Soesdyke-Linden Highway on Monday ended in tragedy for several friends when a young Guyana Defence Force Officer plunged to his death.
According to a source, twenty-three-year old Wayne Paul and several friends journeyed to the creek to spend the Phagwah Holiday and Paul decided to take a plunge from the bridge at the creek. The friends did not notice anything was wrong as he was a very good swimmer and they thought he was playing a prank. The source said that it is not clear if Paul hit his head in the water.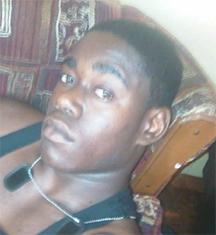 The source added that after they realized something was wrong, they pulled him out of the water but he was already unconscious. He died while on the way to the Diamond Diagnostic Centre.
His body is currently at the Lyken Funeral Parlour.
Comments

The legal team for former New Building Society (NBS) manager, Maurice Arjoon, who was wrongfully dismissed, have levied on the bank's assets in a bid to recoup the $59,033,000 pension owed to him by the financial institution.
An alleged inebriated farmer of 54 Strath Campbell Village, Mahaicony, ECD, died at about 3 pm  yesterday at Chance Village, Mahaicony, after a vehicle he was reportedly not given permission to drive, crashed into a utility pole.

MELBOURNE,  (Reuters) – Rafa Nadal's Australian Open quarter-final curse struck again on Tuesday, an injury forcing the top seed to retire in the fifth set against Croatia's Marin Cilic.

Several hundred more sugar workers are expected to be laid off from the Skeldon, Rose Hall, and East Demerara estates by next month and the Guyana Agricultural and General Workers Union (GAWU) yesterday urged that the decision be reviewed.

The commencement order establishing the Telecommunications Agency was signed last Friday, in anticipation of the liberalisation of the telecoms sector, Minister of Public Tele-communications Cathy Hughes announced yesterday.