Agriculture Minister Dr Leslie Ramsammy yesterday said that a deal with Venezuela for 200,000 tonnes of rice and padi this year is near closure and he warned millers to be fair to farmers.
The rice industry has recently been under stress as there are large amounts of paddy and rice on the hand with few available markets. With the first crop set to flood the market, farmers face lower prices and growers on both the Essequibo and Corentyne coasts have been restive over the situation.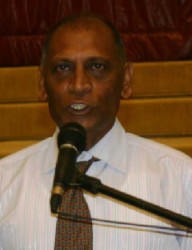 There have also been protests on the Essequibo Coast. On Monday, Finance Minister Dr Ashni Singh announced a $500m allocation for the industry.
Yesterday, Ramsammy sought to assuage fears.
He said in a release that the long wait to begin the 2014 shipment of paddy and rice to Venezuela is almost over.
"Guyanese representatives from GRDB (Guyana Rice Development Board) and the Guyana Embassy in Caracas have worked diligently with officials from various Venezuelan Agencies to conclude arrangements to begin shipment of paddy and rice to Venezuela.
"The team is now working with the rice importing authority in Venezuela to conclude purchase orders and shipping schedules and Guyana hopes to begin shipment as soon as possible, within the next two weeks depending on availability of ships and arrangements with Venezuelan Authorities. All arrangements are expected to be completed in the coming week", he pledged.
The release said that the two countries have agreed on the amounts and price for Guyana's paddy and rice. Based on the pacts, Guyana expects to ship close to 200,000 tons at a price that is similar to last year's. In recent years, Venezuela has been the key rice market for Guyana under an oil barter deal with Caracas.
"I have been disappointed in the approach of millers. I had personally assured them that the Venezuelan market is secure for 2014. I assured them that the political and administrative prerequisites for resumption of shipment of paddy and rice were concluded and that logistical arrangements were the only outstanding issues to be agreed on. In such circumstances, I had asked that millers be fair in their pricing arrangements with farmers.
"…I am grateful to those millers who responded to my urgings. I again state clearly that I have asked GRDB to ensure that access to the Venezuelan market is prioritized for millers who are fair to farmers. I do believe that prices below $3,500 for acceptable grades are unfair to farmers and I will ensure that the GRDB gives priority to those millers who pay prices that are consistent with this view", Ramsammy said.
He added that he has also instructed the GRDB to work closely with the Bureau of Standards to regularly test scales to ensure that farmers' paddy are being weighed accurately. In addition to certification from the Bureau, random testing of the validity of the weights is to be done.
He warned that where anomalies are found, the authorities will request remedies to be put in place.
He said that the authorities have also discovered that incorrect practices are utilized in the implementation of the Rice Factories Act in the calculation of bags of paddy after weighing and taking into consideration moisture and dockage.
He said this was an important issue since it affects the total payment to the farmers. Ramsammy said that he has asked for a 100% audit of all factory slips to ensure that proper calculations are being done.
"While I remain understanding and flexible of all issues challenging the rice industry, from both the farmers' and millers'  perspectives, I believe we must all act in good faith and with fairness.
"In terms of payments, I will urge millers to adhere to the laws of Guyana. The Rice Factories Act clearly establishes the rules of payment to farmers and I expect that these rules will be adhered to.
I am ready to work with both the farmers and the millers to ensure that the rice industry continues to develop and that the risks and vulnerabilities within the rice industry are borne fairly and equally by all stakeholders", he asserted.
He said farmers will invest almost $28B this year in the rice industry.
"These are mostly small-scale family farmers and this is a significant investment made by ordinary citizens.
They operate as private sectors and are not big business, but their collective investment is on the level of big business. They provide self-employment and employment for family members and rural community members. They must, therefore, be treated fairly.
"There are about 75 millers, small and large. They also make investments. It is only right and proper that their investments are recovered. Whether it is millers or farmers, they are all business entities and each is entitled to a fair profit", he added.
Comments

The Guyana Power and Light (GPL) says that just after midday today, three armed bandits stormed its Parika Customer Service Centre; robbing the location of all revenues received up until that time, holding the  staff and customers at gun point and disarming a security guard of a gun.

The Management of Cheddi Jagan International Airport Corporation (CJIAC) is currently undertaking a massive expansion project  and a Temporary Arrivals Terminal Building was recently constructed.

Tourism Minister Shamfa Cudjoe announced the decision to close the company. (Trinidad Express) The Tourism Development Company (TDC) has ceased operations.

Cevons clearing city garbage WPA STATEMENT ON THE UNRESOLVED ISSUE OF GARBAGE COLLECTION IN THE GEORGETOWN MUNICIPALITY The WPA is deeply concerned that the Georgetown City Council's inability to honour its financial obligations to Cevons Waste Management and Puran Brothers has the potential of endangering the health and lives of citizens.
British High Commissioner to Guyana Greg  Quinn  yesterday said that it was hoped that more would have been done to push the constitutional reform process forward.