By Jeff Trotman
The town of Linden is in a state of shock as news of the murder of popular senior citizen Yvonne Adams filters through the town.
The body of Adams, who lived alone, was found in her home on Saturday morning. According to a close friend, who lives a few houses from the deceased, Adams was expected to attend a wedding ceremony on Saturday but she did not respond when a taxi arrived at her home and blew at the pre-arranged pick- up time.
According to the friend, people in the neighbourhood did not suspect foul play because they saw Adams sitting on her front verandah late on Friday evening and they felt that she had overslept. When someone entered the house to wake her up, they found her dead with a rope around her neck and the jewellery she was accustomed to wearing was missing except for a wrist band not  from real gold.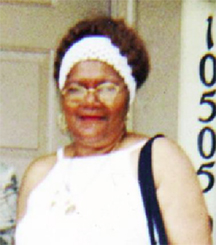 Adams, who has been a widow for several years, is popularly known as Patsy Vickerie. She had been a longstanding resident of the Amelia's Ward community and had been living there almost from the inception of that residential area.
She had lived in the United States of America for some time but had returned to live in Guyana because she had suffered a stroke and could not stand the cold weather. One of the deceased's close friends is shocked at the murder. She said that she last saw Adams last year March and she feels badly that she  returned to Guyana a year later and although she spoke to Adams on the telephone had not seen her.
The friend said she came to Guyana to attend the wedding ceremony of a close relative, which was held on Saturday and she wanted to surprise Adams, who was also invited to attend the ceremony. The friend said that many people referred to Adams as her second mother since she had known Adams from the age of nine and they had been close ever since.
According to the friend, she attended Adams' wedding when she was nine years old and she was well known in Adams' household and although she lived nearby, it was as though she grew up with the niece that Adams brought up. She is also well acquainted with Adams' son, "Froggie", a popular dancer and drummer in various bands before he left Guyana for the United States several years ago.
The friend said that Adams had been cautioned on several occasions to take in someone to live with her but she stubbornly resisted the suggestion. The friend said that because of the stroke, Adams had fallen down on a number of occasions and could not get up but fortunately someone would pass by to assist her.
She said Adams had been robbed of her jewellery on a previous occasion but she was making purchases bit by bit to get them back – earrings, chain and rings – because the jewellery that was previously stolen were gifts from her husband.
Noting that Adams' husband "was from the islands", the friend said that he obtained jewellery for her from his relatives who worked gold in the interior.
Linden is also shocked by the information about the person who has been detained in connection with Adams' murder. He is a popular, former Guymine employee, who is in his mid to late sixties and who would often be seen in Adams' company in the crowded bars in the Mackenzie Market.
The detained man, whose wife resides in the United States of America was said to have a key to Adams' home in his possession when he was arrested by the police. He was said to be the last person to have been seen in Adams' company on Friday and it is claimed that there was no indication that there was forced entry of Adams' home.
Comments

Vamanadev Hiralall, of the privately-run Saraswati Vidya Niketan (SVN), is the country's top performer at this year's Caribbean Advanced Proficiency Examinations (CAPE) after achieving an accumulated 13 grade one and 3 grade two passes.

Twenty-six students in the top one percent of the 12,684 who sat this year's Caribbean Secondary Education Certification (CSEC) examinations earned 12 or more Grade I passes, with half of them, including the top performer, coming from Queen's College (QC).

On the second day of the Commission of Inquiry (CoI) into African ancestral lands and other matters, four witnesses made cases for the return of lands they feel they are rightly entitled to, which were either taken by the state or occupied by private owners.

Shelton George, the man charged with both murdering a waitress at a Chinese restaurant and the attempted murder of a magistrate, was found dead in his cell at the Lusignan Prison yesterday morning.

The Chairman of the Triumph Neighbourhood Democratic Council (NDC) yesterday instructed workers employed on a private site, reportedly intended to build a first-floor pool, to cease operations, just two days after residents called on authorities to halt its construction.