A Canje taxi driver was today remanded to prison after he was allegedly nabbed with over seven kilogrammes of cocaine concealed in pastries at the Cheddi Jagan International Airport.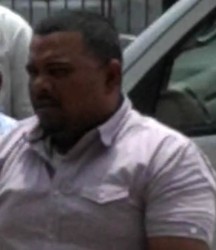 Nicholas Harinandan, 37, of 103 Fort Ordnance, Berbice, pleaded not guilty to having 7.5 kg of cocaine in his possession for the purpose of trafficking on April 6, when the charge was read to him by Chief Magistrate Priya Sewnarine-Beharry.
According to CANU Prosecutor Oswald Massiah, on the day in question, Harinandan was an out-going passenger at the CJIA to the United States of America, when his luggage was passed through a scanner at the airport and the suspected illicit drug showed up. He said CANU officers on duty asked the defendant if he had packed the two suitcases himself and he replied in the affirmative. Massiah said the officer then commenced a search that resulted in a quantity of cocaine laced pastries being found. Cheese rolls, pine tarts and packages of mettai when broken, all had cocaine concealed in plastic, Massiah said.
He added that a complete extraction was done and the suspected cocaine weighed in the defendant's presence. The court heard too that cocaine was also found in the sole of a Clarks shoe in one of Harinandan's suitcases. Harinandan was subsequently arrested and slapped with the drug trafficking charge.
Comments

Fifteen city councillors voted yesterday in favour of accepting the recommendations of the parking meter renegotiation committee, which would see a reduction in parking fees to $150 per hour, exemptions for religious organisations and schools, and Smart City Solutions (SCS) giving up on their claim to garage parking.

A GDF rank was yesterday remanded to prison over three armed robbery charges and alleged possession of an unlicensed gun and ammunition.
Minister of Natural Resources and Leader of the Alliance for Change (AFC), Raphael Trotman on Monday praised ExxonMobil for investing in the oil sector here and said it is now resulting in other important companies wanting to do business here.

The city lance corporal, who on Sunday allegedly shot and killed Marlon Fredericks, a mentally-challenged vendor, after he reportedly attempted to flee custody is to be charged with manslaughter.

Former Magistrate and Univer-sity of the West Indies (UWI) lecturer Christopher Arif Bulkan was yesterday sworn in as a temporary Appellate Judge by President David Granger who said that the appointment is part of efforts to ensure that justice is dispensed in an efficient and timely manner.