Regional Executive Officer (REO) of Region 5, Ashford Ambedkar is calling for an inquiry into the accident at Cotton Tree, West Coast Berbice on Wednesday night which claimed the life of his son.
Donald Ambedkar, 31, of Pouderoyen, West Bank Demerara was killed when his Toyota Carina AT 212 motorcar PRR 6417 collided with a canter truck GHH 7950 at D' Edward, West Coast Berbice around 10:30 pm.
The grieving father said the canter which was transporting two police ranks was hit to the front while his son's car was hit mostly on the side.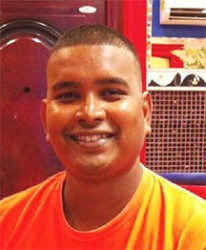 Further, he said his son had received his salary that day and had about $200,000 in his possession. He said the money along with his son's iPhone cannot be accounted for.
Ambedkar also alleged that based on "checks" with persons at the scene, the police were the ones who were consuming alcohol. He also lamented that no breathalyser tests were done on the ranks who sought treatment at a private doctor for their minor injuries.
However, a police source denied that the officers were consuming alcohol and lamented that they had only asked the driver of the canter for a ride to the Fort Wellington Station.
The REO is desperately searching for answers and called for an inquiry into the accident so his doubts can be cleared up.
Ambedkar sustained injuries to his head and was pronounced dead on arrival at the Fort Wellington Hospital. His friend, Sookdeo 'Roy' Sahadeo of Bath Settlement, West Coast Berbice was treated and immediately transferred to the Georgetown Public Hospital where he was admitted in the Intensive Care Unit. His condition is said to be improving.
Comments

Following an outreach in Lethem today, President David Granger (centre at left side of table) held a  high-level security meeting with a number of officials including Guyana Defence Force Chief of Staff, Brigadier Patrick West (third from right on right side of table) and British security sector reform advisor Russell Combe (second from right on right side of table) among others.

The Guyana Power and Light (GPL) says that just after midday today, three armed bandits stormed its Parika Customer Service Centre; robbing the location of all revenues received up until that time, holding the  staff and customers at gun point and disarming a security guard of a gun.

The Management of Cheddi Jagan International Airport Corporation (CJIAC) is currently undertaking a massive expansion project  and a Temporary Arrivals Terminal Building was recently constructed.

Tourism Minister Shamfa Cudjoe announced the decision to close the company. (Trinidad Express) The Tourism Development Company (TDC) has ceased operations.

Cevons clearing city garbage WPA STATEMENT ON THE UNRESOLVED ISSUE OF GARBAGE COLLECTION IN THE GEORGETOWN MUNICIPALITY The WPA is deeply concerned that the Georgetown City Council's inability to honour its financial obligations to Cevons Waste Management and Puran Brothers has the potential of endangering the health and lives of citizens.