As large amounts of garbage continue to be dumped into the Port Kaituma River, residents are fearful that a new outbreak of water borne infections and diseases is looming unless the situation is addressed quickly.
On Monday, during a clean-up initiative organized by the Church on the Rock Assembly of God Church, parishoners collected 730 jumbo-sized bags filled with garbage.
"We were very surprised at the amount of garbage," Overseer of the church Coleen Riddle told Stabroek News, while noting that they found plastic, rotting chicken and chicken skin, plastic bottles and human waste.
Riddle noted that the church had organised other clean-ups and this time around targeted the river because of the visible garbage as well as the unbearable stench emanating from it.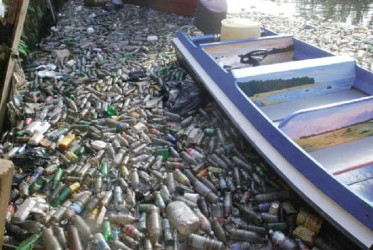 She said that they had 600 jumbo-sized bags which they felt was enough but after the clean-up started it was realised that they needed more. Another 130 bags were subsequently purchased.
In response to the situation, Riddle said that church members have since formed themselves into a committee, which will seek to put steps in place to care the environment and to stop the pollution of the river.
Pointing to the cause of the situation, Riddle said many business persons hire "junkies" to dispose of their refuse, which invariable is dumped into the river by these persons. Riddle opined that every business person should use garbage bags and ensure that their garbage is disposed of properly.
Riddle, who said there are many people who drink the river water, pointed out that many of them could get ill. Of recent, she noted, babies in the area have become sick.
Meanwhile resident, Richard Allen warned that the community is heading towards another outbreak of gastroenteritis, while noting that it is not only fuel from fuel boats that is polluting the water but also the garbage.
He explained that the Neighbourhood Demo-cratic Council (NDC) had in the past purchased a tractor, which is now under the control of the Interim Management Committee (IMC) in place, for garbage collection. The tractor, he explained, is deployed mainly in the business district and collected garbage daily. That garbage, he added, is taken to the dumpsite located at Quarry Top. The dumpsite had been in existence since 1998. Allen further said that a small fee of $300 is charged to empty each garbage drum.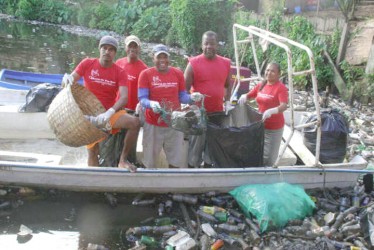 "We have a problem generally with business people who are not residents here. They don't have bins of their own, so they have their garbage being thrown all over the place," he said, while recalling that previously notices for the proper disposal of garbage were given to them.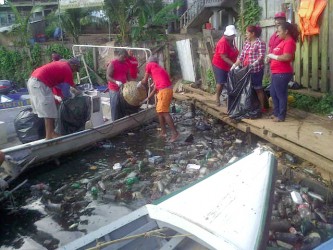 Allen said that the issue these business persons face is that the garbage is collected during the day and not at the end of the day. He pointed out that the solution to this is for these persons to have garbage bags or bins at their premises. He also said that the IMC ought to put stronger measures in place to prevent dumping into the river. He noted that a garbage dump had been created near the wharf and he was concerned that what will end up happening is that some of that garbage will eventually fall into the river.
Allen warned that a health crisis is looming, while noting that there are hundreds of persons living along the river banks and they use the water on a daily basis.
He said that recently he spoke to the environmental officer based in the region about the issue and the official did not know what could be done to correct the situation. "If this doesn't stop, we are looking at another outbreak which will occur continuously," he stressed.
He also pointed out that when the clean-up exercise was underway on Monday, members of the business community did not assist. "Some of them just sit down watching on and didn't pitch in," he said.
Comments

Following an outreach in Lethem today, President David Granger (centre at left side of table) held a  high-level security meeting with a number of officials including Guyana Defence Force Chief of Staff, Brigadier Patrick West (third from right on right side of table) and British security sector reform advisor Russell Combe (second from right on right side of table) among others.

The Guyana Power and Light (GPL) says that just after midday today, three armed bandits stormed its Parika Customer Service Centre; robbing the location of all revenues received up until that time, holding the  staff and customers at gun point and disarming a security guard of a gun.

The Management of Cheddi Jagan International Airport Corporation (CJIAC) is currently undertaking a massive expansion project  and a Temporary Arrivals Terminal Building was recently constructed.

Tourism Minister Shamfa Cudjoe announced the decision to close the company. (Trinidad Express) The Tourism Development Company (TDC) has ceased operations.

Cevons clearing city garbage WPA STATEMENT ON THE UNRESOLVED ISSUE OF GARBAGE COLLECTION IN THE GEORGETOWN MUNICIPALITY The WPA is deeply concerned that the Georgetown City Council's inability to honour its financial obligations to Cevons Waste Management and Puran Brothers has the potential of endangering the health and lives of citizens.