An 18-year-old boy died when the car he was in, PLL 4632 crashed into a parked car at Vriesland, West Bank Demerara at approximately 11:00 pm on Sunday.
Dead is Nikil Persaud of Lot 1022 Section A Block X, Diamond Housing Scheme who was a warehouse clerk at AINLIM.
His sister Angelina Persaud, 24, of the same address told Stabroek News that on the night in question she was at home when her aunt contacted her via telephone inquiring of her brother's whereabouts. Her aunt then told her that Nikil might have been involved in an accident. Father, Fenton Persaud, 52 of the same address received a phone call shortly after from the West Demerara Hospital for him to go there.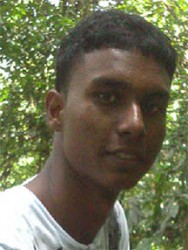 The two then went to the hospital where Angelina said they met her aunt and cousins who were shaking their head in despair. The father was then called into the emergency room where they saw the lifeless body of Nikil.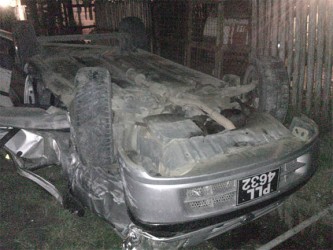 The family then went to the Wales Police Station where they were sent to the scene of the accident with a police officer. They took photos of the wreckage and then were sent to the La Grange Police Station where they met the other occupant of the car, Kevin Kubeer who was a friend of Nikil. Angelina said that they asked the young man what had happened to which he responded, "Nikil was driving the car". No other information was volunteered according to the family.
Angelina further related to the newspaper that her father had told the young man that the car was not his son's and he could not be the driver. When Stabroek News visited the La Grange Police Station, no information was offered by the ranks other than that the crashed car was relinquished to the owners.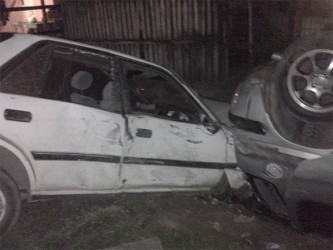 Comments

Finally honouring a court decision, the New Building Society (NBS) yesterday afternoon wrote a $59,033,000 cheque to former manager Maurice Arjoon for pension owed, after his lawyers attempted to levy on the assets of the bank, which then locked the doors of its Avenue of the Republic headquarters with customers and others inside.

A Diamond resident was yesterday remanded to prison after being charged with the death of Ishwar Ramanah, the Kaneville machine operator who was fatally shot during a robbery at his home last month.

A Sisters Village shop owner and his wife were seriously injured on Monday evening when they were attacked by cutlass-wielding bandits, who robbed them of the day's sales.

Although the Government of Guyana has paid more than $26 million for the Commission of Inquiry (CoI) into the education system, its final report has not been submitted after nearly two years.

Two children were rescued on Monday night by a neighbour after a fire ripped through the top flat of their home at Unity, Mahaica, East Coast Demerara.