A teenaged pork knocker has been charged with the murder of Mabura businessman Colin McLean, who he is alleged to have bludgeoned to death after a row.
Jarrell Reid, 19, of Tuschen Sideline, East Bank Essequibo, was arraigned before a city magistrate yesterday and remanded to prison.
He stands accused of murdering McLean, 52, on April 27, at Mabura, Upper Demerara River. He was not required to plead to the charge when it was read by Magistrate Fabayo Azore.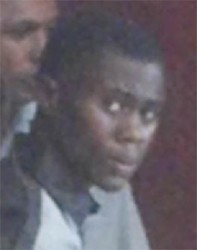 It is the police's case that McLean and Reid on the day in question had an exchange of words. According to Police Prosecutor Deneashwar Maindranauth, Reid subsequently dealt McLean several lashes to the head with a piece of wood. McLean was later rushed to the Mackenzie Hospital Complex, where he died, Maindranauth said, adding that a post-mortem examination ruled that McLean died as a result of blunt trauma to the head. Additionally, the court heard that further investigations led to the arrest of Reid, who had made good his escape.
The teenager's attorney Kimberly Yearwood told the court that Reid was not a flight risk, and that he was the father of a three-month-old child. She also asked the Magistrate for an early date for a Preliminary Inquiry, but was informed that the matter was being transferred to Georgetown Magistrates' Court One, where it will be called again on Friday May 2, before the Chief Magistrate Priya Sewnarine-Beharry.
McLean, called 'Archie,' was found dead on April 27. He ran a business close to the Mabura Police outpost.
Comments

Jerry Lewis   LOS ANGELES,  (Reuters) – Jerry Lewis, the high prince of low-brow comedy on stage and in movies as well as a fund-raising powerhouse with his annual Labor Day telethon, died today of "natural causes" at the age of 91, his family said.

Beharry Automotive Limited (BAL) , the authorised distributor for Toyota parts and lubricants, says that an abundance  of imitation Toyota parts and lubricants have entered the market with the Toyota logo and trademark.

Grace Mugabe   HARARE,  (Reuters) – Zimbabwe's first lady Grace Mugabe returned from South Africa early today, state media reported, after a 20-year-old model accused her of assault in an upmarket Johannesburg hotel room.

Michael Bhopaul, 16, doesn't know if he is this year's best performer at    the Caribbean Secondary Examination Certificate (CSEC) Examinations, but with preliminary results showing that he has obtained passes in 25 subjects, he will be hard to top.

Inmates at the Lusignan Prison turned over 33 improvised weapons yesterday morning to prison authorities, who say that they also apologised to the prison staff for the unrest at the facility on Friday night.