Several attorneys were granted standing to represent the interest of Dr. Walter Rodney's wife and children, his brother Donald Rodney and the Guyana Trades Union Congress (GTUC) in the Commission of Inquiry (CoI) into the 1980 killing of the historian and WPA Leader.
Attorney Andrew Pilgrim, who will be representing the interest of Rodney's wife, Patricia Rodney, and his children had applied for standing along with Keith Scotland who represents the interest of Rodney's brother, Donald Rodney, who was in the car with Walter when he was killed.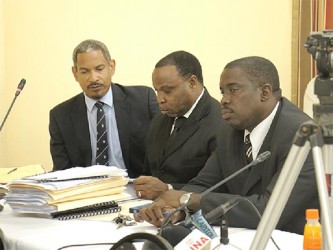 Scotland and Pilgrim were recently called to the Guyana Bar and practise in Trinidad and Tobago.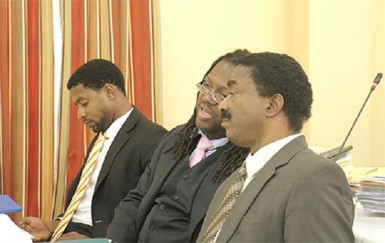 The Guyana Trades Union Congress is being represented by Selwyn Peters in association with Brian Clarke. Peters, who was also called to the Guyana bar practises in Canada and Trinidad and Tobago, while Clarke practises in England, Wales and Barbados. He was also recently admitted to the local bar.
Comments

Following an outreach in Lethem today, President David Granger (centre at left side of table) held a  high-level security meeting with a number of officials including Guyana Defence Force Chief of Staff, Brigadier Patrick West (third from right on right side of table) and British security sector reform advisor Russell Combe (second from right on right side of table) among others.

The Guyana Power and Light (GPL) says that just after midday today, three armed bandits stormed its Parika Customer Service Centre; robbing the location of all revenues received up until that time, holding the  staff and customers at gun point and disarming a security guard of a gun.

The Management of Cheddi Jagan International Airport Corporation (CJIAC) is currently undertaking a massive expansion project  and a Temporary Arrivals Terminal Building was recently constructed.

Tourism Minister Shamfa Cudjoe announced the decision to close the company. (Trinidad Express) The Tourism Development Company (TDC) has ceased operations.

Cevons clearing city garbage WPA STATEMENT ON THE UNRESOLVED ISSUE OF GARBAGE COLLECTION IN THE GEORGETOWN MUNICIPALITY The WPA is deeply concerned that the Georgetown City Council's inability to honour its financial obligations to Cevons Waste Management and Puran Brothers has the potential of endangering the health and lives of citizens.