Family members of Lloyd Hazel, who was shot after allegedly robbing a courier who was transporting a large sum of cash to a bank, said he was shot four times to the head and once to his foot.
They also told this newspaper that the police have confirmed to them that he was shot by a special security officer and not a plain clothes police officer.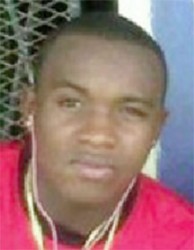 According to reports, Hazel of Lot 86 Hill Street, Lodge, was tracking the courier who was transporting the large sum of money belonging to the Black and Decker store located on Main and Quamina streets.
It was further stated that after the courier entered a taxi, Hazel being armed with a gun rode up to the taxi and snatched the bag of money when he was shot by the guard. Hazel was killed but his accomplice managed to escape in the direction of the Tiger Bay area according to eyewitnesses.
Comments

Attorney, Dr Arif Bulkan is to be sworn in as an acting Justice of Appeal tomorrow.

GPL says that some of its customers on the West Coast and East Bank of Demerara experienced unusually lengthy power cuts as a result of heavy winds and rain last evening and early this morning.

Alliance for Change (AFC) leader Raphael Trotman yesterday said the diversion of billions to the security sector after the destruction of the Camp Street prison was partly responsible for the government not budgeting the full sum for severance payments to laid off sugar workers.

The police were up to yesterday afternoon still working to ascertain the motive behind the murders of Ambrose Baharally and Martin Godette, the Pomeroon farmers who were shot dead on Sunday and a potential witness was taken into custody to assist with the investigation.

Former President Donald Ramotar has accused the current government of accepting loans from India that he initiated except those pertaining to the rehabilitation of the sugar industry but State Minister Joseph Harmon says he is unaware of the claim and has urged that the former head of state prove it.