Family members of Lloyd Hazel, who was shot after allegedly robbing a courier who was transporting a large sum of cash to a bank, said he was shot four times to the head and once to his foot.
They also told this newspaper that the police have confirmed to them that he was shot by a special security officer and not a plain clothes police officer.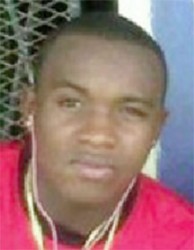 According to reports, Hazel of Lot 86 Hill Street, Lodge, was tracking the courier who was transporting the large sum of money belonging to the Black and Decker store located on Main and Quamina streets.
It was further stated that after the courier entered a taxi, Hazel being armed with a gun rode up to the taxi and snatched the bag of money when he was shot by the guard. Hazel was killed but his accomplice managed to escape in the direction of the Tiger Bay area according to eyewitnesses.
Comments

WASHINGTON (Reuters) – Hundreds of thousands of Americans galvanized by last month's Florida school massacre rallied in cities across the country on Saturday to demand tighter gun laws.

CAPE TOWN, (Reuters) – South Africa opened up a potentially match-winning lead on day three of the third test on Saturday as Australia captain Steve Smith admitted his side tampered with the ball in a confession that sent shockwaves through the sport.

As Guyana prepares for a Sovereign Wealth Fund (SWF) ahead of oil production in 2020, the former manager of one of the world's most successful ones yesterday stressed the importance of full consensus by the society on its fiscal and legislative framework.

The Ministry of the Presidency appears to have scuttled an arrangement between the Ministry of Public Telecommuni-cations and the Cheddi Jagan Research Centre (CJRC) for the production of stamps commemorating the centenary of the birth of late President Cheddi Jagan.

An independent investigation should be launched into the police's recent fatal shooting of three robbery suspects along the Kingston seawall, President of the Guyana Human Rights Association (GHRA) Mike McCormack says.