Courts Guyana Incorporated yesterday donated $2 million to the Ministry of Tourism, Industry and Commerce for the upcoming Guyana Festival.
Managing Director of Courts Guyana Inc Clyde De Haas said Courts was pleased to be a part of the festival, which is set for August 8 to 10.
Minister of Tourism Irfaan Ali said the Guyana Festival will aid in the promoting and enhancing of Guyana's tourism product and in developing new ideas to stimulate the tourism industry.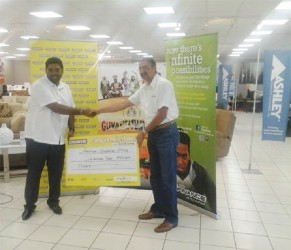 Ali congratulated Courts, calling the company an excellent example of a good corporate citizen with strong commitment to the local market.
He said the festival brings to Guyana its legendary artistes, sportsmen and women and the finest in music, food, culture and art. He added that the event is being promoted extensively outside Guyana and a large influx of returning Guyanese and tourists are expected to visit to attend the event.
Comments

SYDNEY,  (Reuters) – England's Jos Buttler struck a belligerent unbeaten 100 to set up a 16-run win over Australia in the third one-day international on Sunday, as the touring side took an unassailable 3-0 lead in the five-match series.

The Public Procurement Commission (PPC) hopes that by the end of this year debarment legislation would be in place as it will soon begin meeting with stakeholders on a draft.

A bill to provide a legal framework for the protection of witnesses was passed without amendment by the National Assembly on Friday evening despite arguments by the parliamentary opposition that it failed to take into account modern challenges.

The ownership of over $7 million in local and foreign currencies and several vehicles that were all seized during a raid by the Customs Anti-Narcotics Unit (CANU) at Soesdyke, East Bank Demerara on Friday has raised questions and a separate probe is expected to be launched.

Weeks after its major oil find at the offshore Ranger-1 well in the Stabroek Block, ExxonMobil's local subsidiary is preparing to begin drilling at the Pacora-1 well site in the same area.