Drowning was listed as the cause of death when an autopsy was performed yesterday on the body of   Marcel Cummings, the Craig, East Bank Demerara resident who was found dead in a drain last Sunday morning.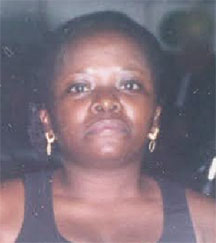 Relatives informed Stabroek News of the finding yesterday shortly after the autopsy and said that she will be laid to rest next Tuesday.
The 42-year-old mother of five was discovered outstretched in a drain by her nephew on Sunday morning after exhibiting strange behaviour for over three days. No marks of violence were found on the body.
Cummings had written a journal telling of the hardships she had been through and her harsh self-judgment of being a partner in an extra- marital relationship while she was a Christian. It stated too that her last partner "Andrew" left her to go and live permanently in the United States about one month ago.
A resident said he saw the woman sometime after 5 am, on Sunday, sitting in the drain flapping her hands and speaking in a strange language and he became scared thinking that   "she trip out" so he ran back into his house and stayed there. He did not know she had died until raised voices caused him to once again peer outside.
Her family believes and maintains that she had been possessed by demonic forces.
Comments

Dawn Hastings-Williams President David Granger, today, announced that Minister within the Ministry of Communities,  Dawn Hastings-Williams will assume the portfolio of Minister of Public Affairs in the Ministry of the Presidency with effect from September 1, 2017.

President David Granger, earlier today, attended the wedding reception of Minister within the Ministry of Communities with responsibility for Housing, Valerie Patterson- Yearwood and .

Grace Mugabe   JOHANNESBURG,  (Reuters) – South African police confirmed on Wednesday that Zimbabwean first lady Grace Mugabe remained in the country and had applied for diplomatic immunity after being accused of assaulting a 20-year-old model in an upmarket Johannesburg hotel.

Daniel Craig   LONDON, (Reuters) – British actor Daniel Craig has confirmed he will reprise the role of James Bond one last time, ending months of speculation.

UN experts condemn racist violence in U.S., urge investigations GENEVA, (Reuters) – United Nations human rights experts called on the United States today to combat rising racist violence and xenophobia and to prosecute perpetrators of hate crimes.