The Director of Public Prosecutions (DPP) yesterday afternoon returned the file on the Colwyn Harding baton rape investigations to the police.
Source told his newspaper that the file was returned yesterday afternoon. However this newspaper have been unable to ascertain what recommendations were made by the DPP.
When contacted Crime Chief Leslie James told Stabroek News that the file was on its way to him. This newspaper was subsequently unable to ascertain if it had arrived.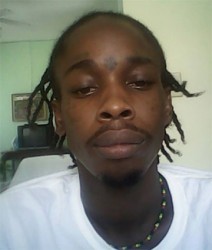 The Chairman of the Police Complaints Authority (PCA), retired Justice Cecil Kennard recommended just over a week ago that criminal charges be brought against two ranks and that at least five be disciplined.
Harding has accused a police constable of pushing a condom covered baton up his anus last November at a house in Timehri. The police had gone to the area to investigate a break and enter incident.
Comments

Alliance for Change (AFC) leader Raphael Trotman yesterday said the diversion of billions to the security sector after the destruction of the Camp Street prison was partly responsible for the government not budgeting the full sum for severance payments to laid off sugar workers.

The police were up to yesterday afternoon still working to ascertain the motive behind the murders of Ambrose Baharally and Martin Godette, the Pomeroon farmers who were shot dead on Sunday and a potential witness was taken into custody to assist with the investigation.

Former President Donald Ramotar has accused the current government of accepting loans from India that he initiated except those pertaining to the rehabilitation of the sugar industry but State Minister Joseph Harmon says he is unaware of the claim and has urged that the former head of state prove it.

Omadat Persaud, who was on trial for raping a five-year-old girl in 2015, was yesterday afternoon sentenced to 45 years in jail after a jury unanimously convicted him of the crime.

The mother of Marlon Fredericks, the mentally-challenged vendor who was fatally shot by a member of the city constabulary on Sunday, yesterday called for justice for her son, while saying that an autopsy found that he died of a gunshot wound to his chest.