A tug operator was swept away and killed yesterday after the tug he was on capsized in the Demerara River.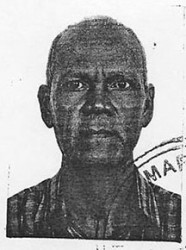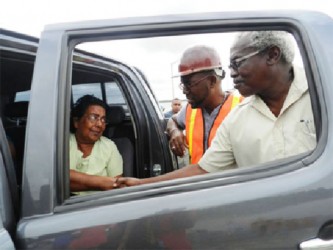 Seepersaud Roopchand, 57, of Lot 156 Parfaite Harmonie, West Bank Demerara, was pronounced dead at the Diamond Diagnostic Centre after his colleagues tried to resuscitate him. The accident occurred around 11.40am, a short distance away from the Demerara Harbour Bridge (DHB) where operators were carrying out maintenance works.
DHB General Manager Rawlston Adams said Roopchand was on duty from 6 am to assist in a bridge inspection.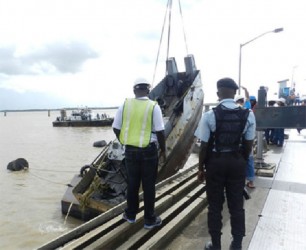 However he was advised around 8 am that the inspection was no longer needed and that he should moor the vessel at the normal docking point.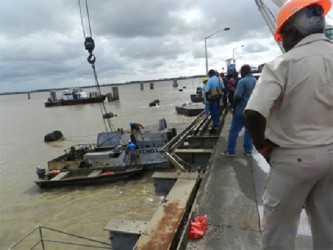 Adams said that around 11.40 am a DHB engineer observed that the tug Rickford L had capsized and that Roopchand was being swept downstream.
A DHB maintenance boat, equipped with safety equipment, was immediately mobilized for his rescue and he was taken out of the water some 200 to 300 metres away from the bridge.
Adams further stated that Roopchand was not wearing a life jacket when he was rescued even though there was a life ring in the tug.
Adams added that he was saddened by the accident and an investigation was launched into the matter.
Public Works Minister Robeson Benn expressed condolences to Roopchand's wife and child while stating that his family would be compensated once investigations are completed.
He said that investigators were already taking statements from other employees who may have witnessed the incident.
The Maritime Adminis-tration Department (MARAD) and the police have also launched their own investigations.
Roopchand was a licensed boat operator with DHB since July 25, 2013 and was an experienced captain.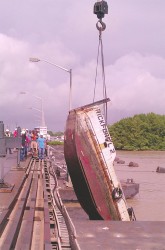 Comments

Attorney, Dr Arif Bulkan is to be sworn in as an acting Justice of Appeal tomorrow.

GPL says that some of its customers on the West Coast and East Bank of Demerara experienced unusually lengthy power cuts as a result of heavy winds and rain last evening and early this morning.

Alliance for Change (AFC) leader Raphael Trotman yesterday said the diversion of billions to the security sector after the destruction of the Camp Street prison was partly responsible for the government not budgeting the full sum for severance payments to laid off sugar workers.

The police were up to yesterday afternoon still working to ascertain the motive behind the murders of Ambrose Baharally and Martin Godette, the Pomeroon farmers who were shot dead on Sunday and a potential witness was taken into custody to assist with the investigation.

Former President Donald Ramotar has accused the current government of accepting loans from India that he initiated except those pertaining to the rehabilitation of the sugar industry but State Minister Joseph Harmon says he is unaware of the claim and has urged that the former head of state prove it.