Outgoing US Ambassador Brent Hardt launched the Guyana Shines next chapter, Keep Guyana Beautiful on Sunday, while expressing satisfaction with the Georgetown project being replicated in Linden and Berbice.
He said this was a step forward since the initiative was launched two years ago and the momentum shows the deep seated desire of the Guyanese people to live in a more beautiful and healthier environment. Hardt said Berbice Shines is currently establishing environmental clubs in Regions 5 and 6.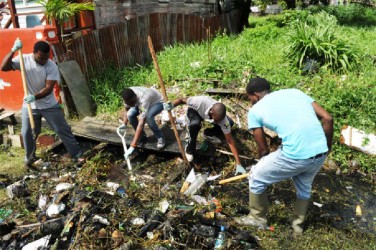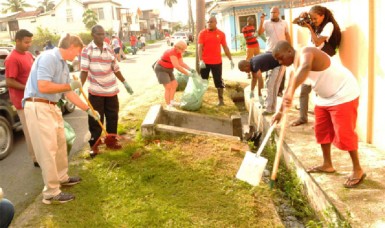 Thus far, Hardt said Guyana Shines had taken him, his staff, and fellow diplomats from the Canadian, British and European Missions, Conservation International and Youth Challenge Guyana to over 70 primary and secondary schools nationwide to help educate students about their vital role in overcoming the harmful effects of littering. He noted that initially the focus was on schools and young people because education is a critical step in shaping the future where all Guyanese take responsibility for protecting their environment and preserving it for future generations.
"We have challenged and encouraged the young people of Guyana and other citizens to preserve and protect their environment in their everyday life," Hardt explained.
A US$34,000 grant was awarded to Youths for Guyana, the group that will "carry the torch," Hardt said and build on the extraordinary volunteer cleanup work done. Hardt said the organization's primary goal is to improve the quality of life within communities throughout Guyana and to enhance educational and economic opportunities for all Guyanese.
He acknowledged Orrin Philips and Dexter Gonzalves, who started Youths for Guyana and were successful in building a volunteer base of over 60 persons.
Hardt said Guyana Shines reminded him of the US and stated that in the 1950s there was a serious littering problem. However, through similar programmes such as the one currently being implemented in Guyana, the littering situation has been rectified.
He stated that church groups and private sector companies in Guyana, have undertaken their own initiative to promote a healthier Guyana.
Comments

CARACAS/SAN CRISTOBAL, Venezuela,  (Reuters) – A wave of looting by hungry mobs across Venezuela has left streets of shuttered shops in provincial towns and pushed some store owners to arm themselves with guns and machetes, stirring fear that the turmoil could spread to the capital Caracas.

Taariq Stephens (New York Daily News photo) A Brooklyn man got a 41-year maximum prison sentence yesterday for killing a 16-year-old Guyanese girl who authorities said rejected his advances.

PRETORIA,  (Reuters) – Debutant Lungi Ngidi took six wickets as South Africa defeated India by 135 runs to claim victory in the second test in Pretoria today and also win the series with an unassailable 2-0 lead in the three-match contest.

(Trinidad Guardian) Environmental activist group Fishermen and Friends of the Sea (FFOS) has obtained an interim injunction barring the Government from continuing work on the first phase of the $400M Churchill Roosevelt Highway Extension to Manzanilla.

Three persons, including the widow of one of the two Pomeroon farmers shot dead on Sunday, have been taken into custody and police say one of them led detectives to the location of an arms cache that allegedly belonged to one of the deceased.