Yet another airline plans to enter the Guyana market and it hopes that the necessary documentation and clearances will be given soon so that it can begin offering direct nonstop flights to New York and Toronto during the summer peak season.
An official close to the airline told Stabroek News that Dynamic Airways (no affiliation with Dynamic Airlines) would begin flying nonstop from Guyana to New York and Toronto once clearance was given.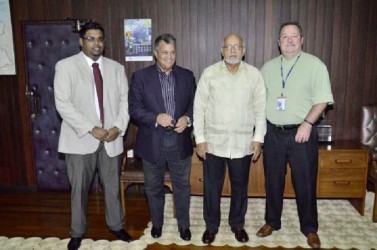 According to online sources, the airline is a charter service which was founded in 2010. It operates many regular flights on behalf of other operators.
The official said that the United States-registered company has already sought the necessary clearance from the Guyana Civil Aviation Authority and is awaiting final word before formally announcing its entrance.
According to the Government Information Agency, the company's Senior Vice President for Business Operations, Tom Johnson met with President Donald Ramotar and Minister of Tourism (ag) Irfaan Ali on Monday.
This newspaper understands that Roraima Airlines will be the ground handler for Dynamic Airways and that company's owner Captain Gerry Gouveia was also a member of the team which met with the two government officials.
On Friday evening the airline is expected to announce its entrance at a cocktail event.
The summer peak travelling period began on Monday with competition already heating up among major airlines that fly between Guyana and North American destinations.
Aggressive competition appears to be pushing down the airfares from Guyana to various North American destinations, with new carriers hoping to cash in on the lucrative market with fares lower than those being offered by the four existing airlines.
Newcomers, Copa Airlines and Insel Air, hope that Guyanese will not only consider them greater value for their flying dollars but will savour the new in-transit routes. Copa Airlines flies direct to Panama with connections to New York, Miami and Toronto while Insel Air goes to Miami via Aruba/Curacao.
With the arrival of Dynamic Airways travellers should see a reduction in the cost they pay for flights to both New York and Toronto.
Comments

LONDON, (Reuters) – The gradual decline of West Indian cricket is hardly a new phenomenon but the latest capitulation of a once-dominant test match power has brought genuine expressions of sadness throughout the sport.

Eleven residents of the juvenile correctional centre at Onderneeming on the Essequibo Coast were apprehended between yesterday and this morning.

With growing pressure on the government over the overcrowding of jails, MP Michael Carrington is confident that the parliamentary bill in his name to ease penalties on marijuana use will gain the support of the governing APNU+AFC benches of which he is a member.
The National Toshaos Council (NTC) is to begin its conference today and high on the agenda will likely be ongoing concerns about the lands commission of inquiry (CoI) which the government has convened.
A Trinidad-based medical products company has secured four contracts worth $135.4m. According to the Ministry of the Presidency (MotP), Cabinet at its meeting on August 15,2017 noted the award of 16 multi-million-dollar contracts.