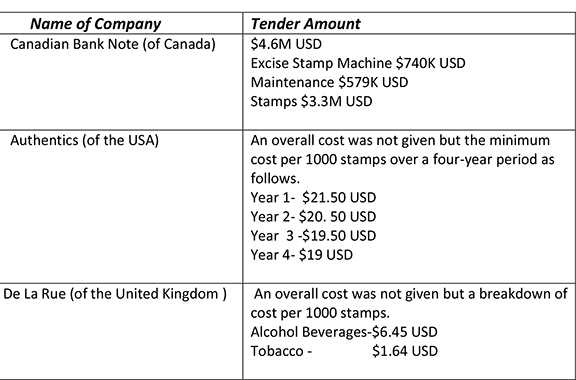 The Guyana Revenue Authority (GRA) is putting systems in place to crack down on smuggled alcoholic beverages and cigarettes.
The Agency yesterday received bids for the design and implementation of a digital excise stamping programme for alcoholic beverages and tobacco products.
"It's marking the items with a stamp and will use the implementation to detect fraudulent stamps …. It is an internationally accepted system," Commissioner of GRA Khurshid Sattaur told Sabroek News yesterday.
He explained that the system was being put in place to prevent smuggling of the two commodities.
Bids for the contract were yesterday opened at the National Procurement and Tender Administration Board (NPTAB), Main and Urquhart streets, Georgetown.
Three foreign companies submitted tenders and these are shown in the table below.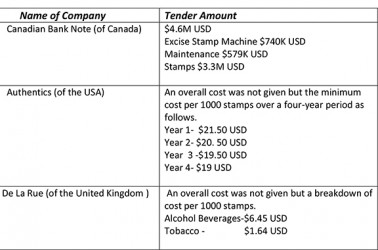 Meanwhile, the Ministry of Agriculture's National Drainage and Irrigation Authority (NDIA) received bids for the upgrading of access roads and bridges on the West Coast of Berbice, Region 5.



With the procuring entity being the Ministry of Agriculture, bids were also opened for the construction of a storage bond for the Pesticides and Toxic Chemicals Control Board which is located at Mon Repos on the East Coast of Demerara.



Comments

GEORGETOWN, Guyana,  CMC – Jason Mohammed completed his seventh first class hundred but there was little joy for Trinidad and Tobago Red Force as Guyana Jaguars needed a mere 45 deliveries to pull off an innings and 81-run win in their final round match here today.

LIMA, (Reuters) – Pope Francis wrapped up his trip to Chile and Peru today by warning that Latin America was in a deep crisis from corruption, with politics in most countries "more sick than well." Speaking in improvised remarks to bishops, he mentioned the scandal involving construction company Odebrecht, which has admitted to paying billions in bribes, as an example of greed run amok across the continent of his birth.

SYDNEY,  (Reuters) – England's Jos Buttler struck a belligerent unbeaten 100 to set up a 16-run win over Australia in the third one-day international on Sunday, as the touring side took an unassailable 3-0 lead in the five-match series.

The Public Procurement Commission (PPC) hopes that by the end of this year debarment legislation would be in place as it will soon begin meeting with stakeholders on a draft.

A bill to provide a legal framework for the protection of witnesses was passed without amendment by the National Assembly on Friday evening despite arguments by the parliamentary opposition that it failed to take into account modern challenges.