An Anna Regina labourer, who allegedly stabbed a man and killed him on June 1, was remanded to prison until June 18, when he appeared before Magis-trate Sunil Scarce at the Suddie Magistrate's Court on Thursday last.
Rabindra Ramnauth, 38, of Anna Regina New Housing Scheme, Esse-quibo Coast allegedly killed Edward Williams, 56, of Lima Sands also on the Essequibo Coast.
According to reports, the two men were on a drinking spree at the home of Ramnauth's aunt when a heated argument ensued over a cricket match. It is alleged that Ramnauth stabbed Williams in his abdomen with a knife. Williams was rushed to the hospital where he succumbed while receiving treatment. Ramnauth who was represented by Sonia Parag was not required to plead to the indictable charge read to him.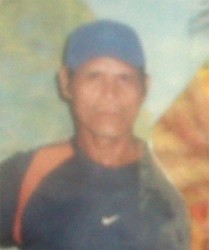 Parag asked the court to grant her client reasonable bail, since according to her he is not a flight risk and has cooperated fully with police.
However, Police Prosecutor Haimwant Ramsewak objected to bail citing the nature of the allegation, the possibility of Ramnauth being a flight risk and the possibility of him tampering with police witnesses.
Parag strongly objected to these statements arguing that the police have no solid foundation on the claims.
After the matter was considered by Magistrate Scarce, bail was refused even though he said the offence was bailable.
Ramnauth was remanded to prison until June 18.
Comments
British High Commissioner to Guyana Greg  Quinn  yesterday said that it was hoped that more would have been done to push the constitutional reform process forward.

A West Coast Berbice man died after he reportedly set his one-storey house ablaze sometime around 11.20 am yesterday.

A Yarrowkabra miner was yesterday charged with the murder of a co-worker, whom he allegedly beat to death during an alcohol-fuelled clash last Saturday at a dredge site in the Potaro Backdam.
A court action was yesterday filed challenging a directive issued in the name of President David Granger to the Police Service Commission (PSC) for a hold to be placed on planned promotions this year.
UK security expert Lt Col (rtd) Russell Combe, who is working closely with the Guyana government to resuscitate the Security Sector Reform Action Plan (SSRAP), will be broadening his mandate to assess the country's prison situation.