A four-year-old Bagot-stown boy was found dead at a koker a few yards from his home on Tuesday evening.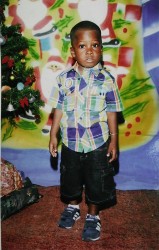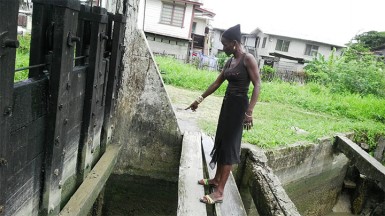 Tevon Niles, of Bagotstown Squatting Area, was last seen alive at 4:45pm on Tuesday. Relatives told Stabroek News that Niles and his three-year-old cousin, Leron, were riding a bicycle in the area when Niles disappeared.
A desperate search involving scores of able-bodied young men ensued for six hours and culminated sometime after 11pm, when someone bumped into Niles' body while diving at the koker.
"He was found bracing the koker wall," said the lad's grandmother, as she pointed to the area Niles was found.
One relative said she found it strange that no one in the area heard a splash when the boy apparently fell in. "This place always got people around," she explained. Meanwhile, other relatives just sat staring at a picture of Niles and cried. Niles leaves to mourn his mother, Yonette McPherson, and a nine-year-old sister.
The child's body is at the Georgetown Public Hospital Morgue awaiting a post-mortem examination scheduled for Friday.
Comments

UN experts condemn racist violence in U.S., urge investigations GENEVA, (Reuters) – United Nations human rights experts called on the United States today to combat rising racist violence and xenophobia and to prosecute perpetrators of hate crimes.

The twin-engine Beechcraft seized by authorities on an improvised airstrip on Sunday in the North Rupununi, Region Nine area, was yesterday confirmed as bearing a registration number belonging to an investment company in Brazil.

ExxonMobil yesterday signed a deal with Guyana Shore Base Inc (GYSBI) for an onshore support facility at Houston on the East Bank of Demerara.
While students who sat Caribbean Examination Council (CXC) exams in May and June of this year will be able to access their results online on Friday, the Ministry of Education has already announced that Guyana has recorded a 7% increase in passes at the Caribbean Advanced Proficiency Examinations (CAPE).

A post-mortem examination is expected to be done today to determine the cause of death of a nine-month-old baby, who died on Monday after she was left in a car.