Cemetery workers got a fright yesterday when they discovered a partially-open casket at a vandalised tomb at the Le Repentir Cemetery.
The workers, who were cleaning a spot for a burial, were taken aback by the broken tomb and the damage to the casket and they quickly alerted the family of the deceased, Noel Campo. Some workers initially stated that the head of the decomposing body was decapitated. However, when police arrived at the scene they discovered that the body was intact.
Relatives of the dead man stood uneasy as police lifted open the casket, revealing the decomposed body of the man.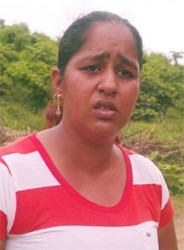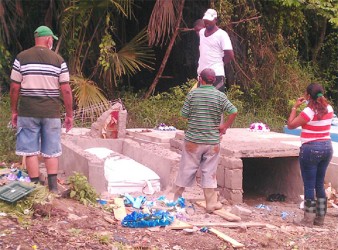 Campo's partner, Ashim Bacchus, said she received a call from one of the graveyard workers who told her that his tomb was broken into. She said she was also told that his head may have been cut off.
She said was shocked when she received the call yesterday because he was buried last Friday with only the clothes on his back, a wrist watch and $200. She stated that they had even damaged the coffin slightly to deter anyone from breaking in, stealing it and throwing out his body. She added that she had also paid someone to watch over the dead until two days had passed.
Bacchus was unsure who would do such a thing but was suspicious of a relative who believed she was left with a small inheritance. But Bacchus said she was left with nothing but bills to pay off for a house that she and Campo had recently purchased.
The woman explained that Campo was being treated at the Woodlands Hospital for kidney stones but a month ago he received a tragic news that led to his death. He had turned up at the hospital to be treated for the stones when the doctors diagnosed him with a brain tumour. He had one month to live. "I just wanted to bury him nice so when his daughter grow up I could bring her and show her where her father bury," she said.
Comments

Grace Mugabe   HARARE,  (Reuters) – Zimbabwe's first lady Grace Mugabe returned from South Africa early today, state media reported, after a 20-year-old model accused her of assault in an upmarket Johannesburg hotel room.

Michael Bhopaul, 16, doesn't know if he is this year's best performer at    the Caribbean Secondary Examination Certificate (CSEC) Examinations, but with preliminary results showing that he has obtained passes in 25 subjects, he will be hard to top.

Inmates at the Lusignan Prison turned over 33 improvised weapons yesterday morning to prison authorities, who say that they also apologised to the prison staff for the unrest at the facility on Friday night.

Well known Berbice attorney Chandra Sohan was arrested on Friday after he allegedly struck a pedestrian in a hit and run accident along the Williamsburg Public Road.

For a little more than an hour yesterday, the streets outside the Mackenzie Market rang with the voices of dozens of Linden residents who turned out to support a march against homosexuality.